Middlebury senior named to USA Today's All-USA Academic First Team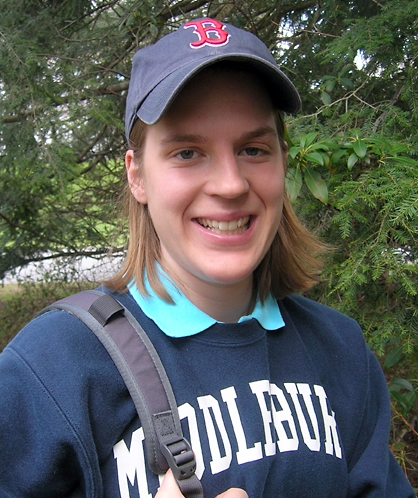 MIDDLEBURY, Vt. ? Middlebury senior Carrie Bryant of Wellesley Hills, Mass., is one of 20 college students named to the elite USA Today College Academic First Team, which was announced by the McLean, Va., based newspaper on April 29. Now in its 20th year, the $2,500 award recognizes students for outstanding intellectual achievement and leadership.
A classics major with a 3.91 grade point average, Bryant has numerous honors and awards at Middlebury College including the 2009 Jason B. Fleishman Award; the Eaton Prize for Outstanding Achievement in Classics; and Charles A. Dana Scholar for academic achievement potential for leadership and accomplishment. She will begin graduate studies in Latin language and literature at Oxford University this fall.
Just prior to what she expected to be her first semester at Middlebury College, Bryant was diagnosed with multiple sclerosis (MS). Putting her studies on hold temporarily, she focused on her own health and became very active in the Accelerated Cure Project (ACP) and the National MS Society. Subsequent to her arrival at Middlebury, Bryant organized Carrie's Walk to Cure MS, which raised $80,000 for ACP. Later, she turned her attention to pediatric MS, which she felt was a largely understudied area, and created the Carrie Bryant Fund for Pediatric MS. In April 2008, she gave the keynote address at the annual MS Milestones Gala, after which she presented the MS Society with a check for $102,330.
"I am hopeful that the Carrie Bryant Fund for Pediatric MS will allow neurologists and researchers to discover the cause of pediatric MS," said Bryant, "so that other young adults will not have to endure an MS diagnosis."
According to USA Today, the group of 20 winners was selected by a panel of judges from hundreds of students nominated by colleges and universities across the United States. Judges considered grades, leadership, activities and, most importantly, how students extend their intellectual talents beyond the classroom.
— end —