Senior dance majors present 'The Otherwise Forgotten' on April 17 & 18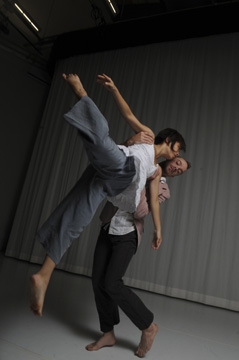 Event Calendar Listing
Friday and Saturday, April 17-18
8 p.m.
Dance Theatre of the Kevin P. Mahaney '84 Center for the Arts, located on South Main Street (Route 30)
Admission: $5 students, $8 general public, $6 seniors and children
Middlebury College senior dance majors Yina Ng and Simon Thomas-Train join forces for their independent work "The Otherwise Forgotten," investigating themes of family, place and death on Friday and Saturday, April 17 and 18, 2009 at 8 p.m. in the Mahaney Center for the Arts Dance Theater.
Ng's work explores the body's complex interactions with the force of gravity as death strikes close to home. Dancers resist, surrender, launch in the air, fall, and recover within a fractured series of honed, variegated vignettes that takes the audience into a flash of space and time that resembles the ephemeral happenings of death. Through potent images, Ng's work challenges current perceptions of foreign "places" as false realities created by incomplete information. Crossing images of a Japanese garden and an apartment building, Ng's video reiterates the subtle exchanges between human and nature often forgotten by city dwellers.
Struggling with the violence of the current and ongoing war, Thomas-Train's work fills the stage with memories of childhood, adolescence and adulthood in portraying the life of one lost in the conflict. Dancers laugh, cry, scream and shout as they move with precision and poise in one moment and whirling uncertainty in another. Collaborating sophomore student Philippe Bronchtein supports and drives the piece with an original music score of acoustic and electronic composition. Thomas-Train's video work is an abstracted study of how humans approach, treat and use the spaces that surround them. Filmed with the help of Ng, it is a small glimpse at the inexorable bond between human and place.
As current members of Big Action Performance Ensemble (Big APE), both Ng and Thomas-Train have collaborated in professional performances and artistic creation since 2005. The duet premiered at the American College Dance Festival in 2008, and was selected for and presented at the National College Dance Festival in New York City.
The performance is sponsored by the Middlebury College Department of Theatre and Dance, Senior Research Fellowship and Senior Work Fund. For tickets and more information contact the Middlebury College Box Office at 802-443-6433 or http://www.middlebury.edu/arts/.