Senior earns Watson Fellowship for year-long study of island cultures [video]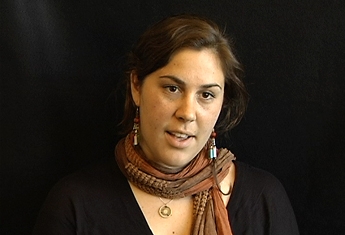 MIDDLEBURY, Vt. - Aylie Baker, a senior from Yarmouth, Me., is the latest Middlebury student to receive the prestigious Thomas J. Watson Fellowship, which funds a year of post-undergraduate independent study outside the United States. She begins her travels in July and plans research visits to the Maldives, the Canaries, the Chiloé Archipelago and Palau, where she will record numerous audio interviews. She hopes the recordings will have value both for the communities she visits and for her own continued research at home.
Baker says growing up in Maine, with its more than 4,000 coastal islands, gave her a deep appreciation for island life and culture. She believes the rugged challenges faced by islanders, combined with inflated costs for goods, results in innovation by necessity.
"Islands are in many ways the heralds of change and the bellwethers of our future," Baker says. "Given their small size, limited resource base and small population, they have to think about issues of sustainability every single day."
Baker is a history major who has developed a particular interest in audio storytelling during her time at Middlebury. Two years ago, she traveled to Uganda with two other Middlebury students on a Davis Projects for Peace fellowship. Inspired by NPR's now-famous Story Corps project, the students recorded interviews with Ugandan children, which they shared with the villagers but also submitted for radio broadcast in Uganda, and more widely through a web site.
Much closer to home, Baker was part of a class this year taught by Professor John Elder, that worked in partnership with the tiny farming town of Starksboro, Vermont, to gather and produce stories from throughout the town. The class project was a first step in helping the town to develop a stronger sense of its own identity, which in turn laid the groundwork for future planning efforts.
Baker says she's looking forward to applying a similar model of story collecting and sharing during her Watson year. "There are a lot of different ways you can use audio and stories and give them back to a community," she says. "I want to experiment with different ways to do that, but again working with community partners and having the drive largely come from the communities I'm working with."
Despite a complex travel schedule to some of the world's most remote places, Baker resists any temptation to over define the final product of her year of research. She notes that the Watson is designed for exploration of ideas and that is what she plans to do. "Inevitably I'm going to collect probably hundreds of stories in this process," she says, "but I'm not so worried about the product. I know it's going to evolve and I know that this is process - and that perhaps is the most exciting thing!"