Middlebury's Class of 2009 urged to be a force for positive change
MIDDLEBURY, Vt.-During Middlebury's commencement ceremonies on Sunday, May 24, which began in a steady rain, speaker Gary Hirshberg promised the Class of 2009 that the sun would shine on them, eventually. He was right, of course. And as it happened, it only took a few minutes.
About the time that Hirshberg, the president and CEO of Stonyfield Farm, maker of organic yogurt and other dairy products, wrapped up his speech, the rain stopped, and before too long, the clouds blew away. Most of the degrees were awarded under sunny, bright blue skies. The blue ponchos and multicolored umbrellas that had bloomed like so many spring flowers were put away, and the sunblock came out.
The first two members of the Class of 2009 to receive their diplomas and congratulations from President Ronald D. Liebowitz were valedictorian Kurt Schaberg, a Chemistry and Biochemistry major from Burlington, Vermont, and salutatorian Nicholas Livingston Spengler, an English and American Literatures major, from Colchester, Vermont.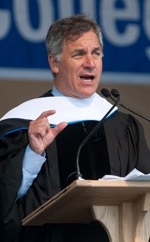 Read Gary Hirshberg's commencement address
Read Jacob Liberman's student speech
Read the May 23 baccalaureate address by President Liebowitz
Hirshberg was one of seven people to receive honorary degrees during this year's commencement ceremonies. The others were Betty Ashbury Jones, M.A. French '86, a longtime member of the College's board of trustees and champion of international education; David Allen Jones, Betty's husband, a current trustee of the Monterey Institute of International Studies, and founder of healthcare giant Humana Inc.; John McCardell, president of Middlebury from 1992 to 2004, and his wife Bonnie, an advocate for children and for literacy programs; Frank Sesno, Class of '77, who worked at CNN for more than 20 years as correspondent and anchor; and Clara Yu, a former Middlebury faculty member and administrator who recently retired as president of the Monterey Institute.
In his address, Hirshberg offered a bleak assessment of the world into which the Class of 2009 is graduating, but assured them that they were emerging from the academy at a time of almost limitless opportunity. After rattling off a litany of humanity's failures, both ecological and commercial, Hirshberg said "The good news is that those of you who can see the big picture and recognize the incredible opportunities in fixing a lot of these messes will have spectacular, profitable and highly fulfilling careers."
He told the graduates that they were beginning their post-graduate lives "exactly as I began my business: Broke, clueless about the future, and in debt. … And since you are graduating into the worst economy and jobs picture since the Great Depression, I think it is reasonable … for you to be completely terrified."
Senior Class Gift

President Liebowitz announced during commencement that more than 90 percent of the Class of 2009 had contributed to the senior class gift, which will go toward renovation of the Woodstove Lounge in Proctor dining hall. Including a match from an anonymous donor ($100 for each gift) the total raised so far is more than $72,000.
He ticked off the issues facing us: the current economic meltdown, caused by "borrowing money we didn't have to buy stuff we didn't need or couldn't afford"; climate change, "which is coming faster than anyone predicted"; our recklessness with toxic chemicals, hundreds of which are now found in our bodies; and our refusal to deal realistically with waste, which we typically want to send to "a mythological place called 'away.' "
In the face of all this, he asked, "What useful words can I offer you? First, I know the feeling. … My career is best summed up by two quotes of Winston Churchill's: 'Success is the ability to move from failure to failure with no loss of enthusiasm.' And, 'Wisdom is something that you get just after you needed it.' But when it comes to our planet and how we have treated our bodies, we don't have the time for a lot of failure or to develop wisdom. That's the bad news.
"But the good news is that we've got the knowledge and the opportunity to make huge and positive strides right now. The good news is that all of the signs indicate the old economy is dead, and that we are ready for the next wave of technology innovation. We don't have to choose between doing good and doing well; indeed, in my experience, the best ecological practices have turned out to be the most profitable."
Hirshberg told the graduates to always shoot for superior quality; to believe in themselves, even when the chips are down; to make sure their decisions were based on evidence; to be determined and take risks; to challenge the conventional wisdom by asking "Why not?"; and to never underestimate the value of performing service and doing good.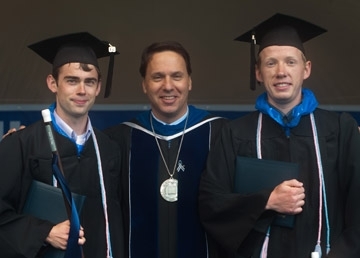 From left, 2009 salutatorian Nicholas Livingston Spengler, an English and American Literatures major from Colchester, Vt.; President Ron Liebowitz; and valedictorian Kurt Schaberg, a Chemistry and Biochemistry major from Burlington, Vt.
He said ultimately he hoped the Class of 2009 would take away three key messages:
"Be a force for positive change: It will pay off."
"Be clear … that the true measure of your achievement is not the facts you have absorbed, but whether you have learned to learn. Einstein said, 'Education is what remains after one has forgotten everything he learned in school.' "
"Be relevant, in terms of what you do and what you buy."
"Humanity has always progressed through waves of innovation," Hirshberg said. "I believe that we stand at the edge of the next wave, the sustainability revolution in which we use green chemistry which leaves behind no toxic residue, cradle-to-cradle technology which generates no waste, renewable energy with no carbon footprint, industrial ecology with waste from one process being the food for another. These will be the norms. So whether as producers in the new economy or consumers, as you graduate into the 'real world,' this now becomes your moral obligation, but also your opportunity.
"I don't know what the future holds and neither do you. But I do know who holds the future. And I do know that Gandhi was right when he said that anyone who feels they are too small to make a difference has never been in bed with a mosquito."
Speaking just ahead of Hirshberg was Jacob August Liberman, a joint major in Environmental Studies and Geography, from St. Louis, Missouri, selected by his classmates to give this year's student speech. Liberman said he had struggled to understand the meaning of the words on the front of Mead Chapel, which he'd first seen while on his way to first-year convocation: "The strength of the hills is his also."
"The life we live at Middlebury has taught me the meaning of the strength of these hills," he said, "and that is exactly the value of a Middlebury education. By that I don't mean $201,600, but I'll pause anyway for anybody that feels inclined to thank his or her parents once more. Rather, the strength of the hills is the ability to think critically, and for ourselves. It's the power to produce great work, and the capacity to balance that work with the things we love outside of the classroom, and soon, the workplace. The strength of the hills is the legacy left by students who came before us who set the example for students like us, and the knowledge that we have set the bar for students in the future. The strength of the hills is the relationships we've built with professors, staff, and alums … and with each other. … And finally, as a confluence of all of these variables, the strength of the hills is the accomplishments we've made along the way, and will make in the future."
He said he'd been humbled by the accomplishments of his classmates, and expected that would continue in years to come when he read the books they wrote, watched the movies they made, or saw them in the news. "I don't know how much more humbling I can take," he said, "but I do know that … it will soften the blow knowing two things: you all like Madonna as much as I do, and as a function of that, I saw you take your shirt off at a Late Night Dance Party in McCullough." Pointing out into the audience he added, "Especially that guy."
Liberman urged his fellow graduates to reflect on the words, and to "think about how you have obtained and become a part of the strength of these hills. The strength of the hills might also be his, but after spending four years here, I'm convinced the strength of the hills is primarily ours. The skills we have learned here will be with us for the rest of our lives, so use them. Remember to take full advantage of life, like we have all done here at Middlebury, and I have no doubt you will all continue to humble me. Congratulations guys! Woo-hoo!"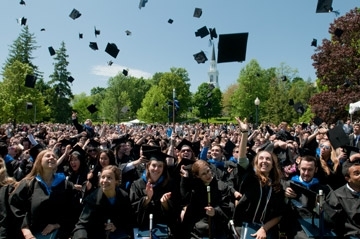 Mortarboards fill the suddenly blue sky at the conclusion of commencement.
- Photos by Brett Simison