Student, professor land $50K state grant for iPhone start-up business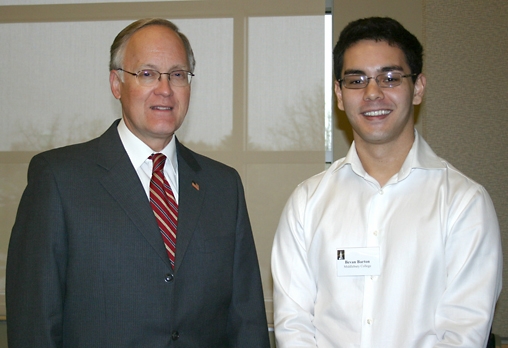 MIDDLEBURY, Vt. - A start-up company founded by Middlebury Associate Professor of Computer Science Tim Huang and Bevan Barton, a junior computer science major from Oakland, Calif., has received a a grant for $50,000 through the Vermont Center for Emerging Technologies (VCET). Barton and Huang founded the company Appstone to create products that will help aspiring software developers learn to make applications for the Apple iPhone.
Vermont Governor James Douglas announced the Appstone grant at the fourth annual Invention to Venture Conference on April 28 at the University of Vermont's Davis Center. A second grant was presented to the company Hoozinga, which is comprised of students and faculty from Champlain College's Gaming and Emergent Media Program.
"These companies prove that even in the midst of a protracted economic downturn, Vermonters still look to build and expand cutting-edge companies," said Douglas. "Government must do all it can to support them."
The new start-ups are beneficiaries of a Simulated Software investment and incubation initiative launched last fall by the Agency of Commerce and Community Development and VCET. This initiative provides each recipient with VCET technology incubator membership in addition to a $50,000 investment per start-up.
The iPhone has been tremendously popular with more than 37 million sold to date. It's akin to carrying a tiny personal computer with endless potential for software applications - ranging from mindless fun, like popping simulated bubble wrap to serious household finance programs. iPhone users purchase and download the applications, typically for a few dollars. Apple says downloads for iPhone applications have surpassed one billion.
This insatiable appetite for new applications gave Huang and Barton the idea for Appstone. "Many people have great ideas for iPhone applications, but don't know how to program the iPhone," says Huang. "We will provide educational materials and associated sample applications to help them get up to speed quickly."
Huang says the grant will enable Appstone to obtain services and equipment needed to move forward with their business plan. "Most importantly," he notes, "it establishes a formal relationship between Appstone and VCET, which will provide advisory services and access to industry connections."
Based in Burlington, VCET is a technology business incubator. The center offers selected early-stage businesses a menu of traditional incubator services such as furnished office and laboratory space, business consultation, shared office equipment, administrative support, business education and workshops.
— end —