Students honored at 16th annual Public Service Leadership Awards event
MIDDLEBURY, Vt.-Forty-seven Middlebury College students and two student organizations were honored for their volunteerism at the 16th annual Public Service Leadership Awards reception held April 29 at the McCullough Student Center.
The students were nominated by service agencies throughout Addison County, by local individuals, and by their peers. All of the nominees received certificates from President Ronald D. Liebowitz and recognition from the more than 100 students, faculty, staff, and community members in attendance at the dinner.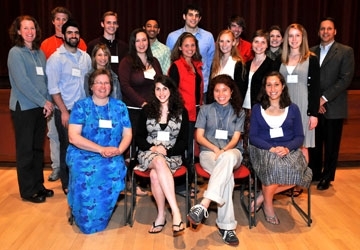 Front row, from left, ACE Director Tiffany Sargent '79, Rayna Rogowsky '09, Htar Htar Yu '09, and Sarah Tucker '09; middle row, guest speaker Kate McGowan, Ben Wessel '11, Caitlin Kellough '11, Kate Bass '11, Katherine Sparkes '09, Samantha Pack '09, Christine Bachman '09, and Julia Szabo '10; back row, Ben Weir '11, Matt Westman '09, Kyle Dudley '09, Aaron Smith '09, Trevor Lee '09, Megan Mishler '11, and President Ronald D. Liebowitz.
From among the nominees, four students and two campus organizations were selected to receive Middlebury College Public Service Leadership Awards, one student received the Dana Morosini Reeve '84 Memorial Public Service Award, one received the Bonnie McCardell Public Service Award and four young men received the John M. McCardell Public Service Award.
The Public Service Leadership Award Fund makes a $300 donation on behalf of each award recipient to a nonprofit organization designated by the student. In the 16-year history of the program, the fund has donated almost $30,000 to worthy causes on behalf of more than 500 public service award recipients.
"Change usually doesn't happen because of some singular bold action taken by one individual," President Liebowitz said at the dinner. "It is more often the result of a series of actions taken by many different people who probably aren't even aware that they are working in concert. By volunteering, for example, to be part of the local ambulance corps or helping to raise money for cancer research, or working to increase awareness of environmental issues through an organization like the Sunday Night Group, you are part of a chain reaction of change. Just by 'doing what you can, with what you have, where you are,' as Teddy Roosevelt once observed, you are changing the world."
The evening's keynote speaker was Kate McGowan, co-director of the United Way of Addison County, who advised the students to carry four tools with them throughout their lives as community volunteers. The first tool, "the two I's," is your intent and impact, she said. The second, "a taut string," should always be attached to your heart or your head. The third, "a pit crew," is your family or friends who guide you. And the fourth, "an annual check-up," is an honest self-assessment of the work you are doing.
This year's Dana Morosini Reeve '84 Memorial Public Service Award went to Christine Bachman '09 for her extraordinary dedication to the Middlebury Open Queer Alliance and her work as an activist for the acceptance of all sexual identities and greater awareness of diversity.
The Bonnie McCardell Public Service Award was presented to Samantha Pack '09 in recognition of her advocacy for and organizational leadership with the "College For Every Student" mentoring program for underserved youngsters.
Four seniors-Kyle Dudley, Ben Erlich, Aaron Smith, and Matt Westman-received the John M. McCardell Public Service Award for their inspirational involvement in coaching the Addison County Special Olympics basketball team, and their work to become both friends and role models to young athletes. President Emeritus McCardell was on hand to present the award.
The recipients of the Middlebury College Public Service Leadership Awards were:
Kaitlin Katsura '10, Trevor Lee '09, Julia Szabo '10, and Sarah Tucker '09 who together formed the backbone of "MiddVote," the on-campus, non-partisan effort that successfully encouraged over 400 Middlebury students to vote in the 2008 election, either by registering to vote or by requesting absentee ballots,
Rayna Rogowsky '09 for her extraordinary advocacy work, her dedication to WomenSafe, her leadership with the National Multiple Sclerosis Society and her devotion to serving Jewish community organizations,
Ben Wessel '11 for his passionate activism on climate change issues, the success of his leadership behind the PowerShift campaign, and his involvement in organizations committed to ending global warming,
Katherine Bass '11, Vanessa Evers '10, Caitlin Kellough '11 and Megan Mishler '11 for their dedication to the needs of Addison County's migrant workers and their families through an organization they formed called "Juntos," which means "together" in Spanish,
Htar Htar Yu '09 for her devotion to improving the lives of Burmese refugees both in Vermont through the state's Refugee Resettlement Program and in Southeast Asia with the Women's League of Burma and other organizations, and
Katherine E. Sparkes '09 in honor of her four-year commitment to volunteer service while at Middlebury as well as her volunteer leadership with the John Graham Emergency Shelter in Vergennes.
More than 47,000 hours of service
The Alliance for Civic Engagement (ACE) at Middlebury College estimates that more than 1,500 students engaged in community service projects or service-related initiatives during the 2008-2009 academic year. These students gave more than 47,000 hours of service during the academic year-roughly the equivalent of a 22-person workforce engaged in the needs of the community on a full-time, year-round basis.
In addition, more than 300 Middlebury College faculty and staff give about 25,000 hours of their volunteer time and effort annually. In the past year, almost $400,000 was raised by Middlebury-led initiatives on behalf of charitable organizations.
Patrick Durkin, a 1979 Middlebury graduate, started the College's public service leadership award program in 1993 and continues to underwrite the program today. Durkin is a partner at J Fitzgibbons, a private equity and hedge fund firm located in New York. He is also on the board of directors of CARE, the American Red Cross of New York, and the National Fish and Wildlife Foundation, and has demonstrated his devotion to public service all throughout his life.
Thanks to Durkin, this year's award recipients designated the following organizations to receive $300 donations: Special Olympics of Addison County, Foundation for Women's Health, Research and Development, Children of Lesbians and Gays Everywhere (COLAGE), WomenSafe, Multiple Sclerosis Society, SustainUS, ACE to support future voter registration drives, Breakthrough of Greater Philadelphia, Vermont Refugee Resettlement Program and ACE to support future "Juntos" initiatives.
The call for nominations goes out to the Middlebury community in mid-winter to begin the selection process for the awards. Decisions are based on students' demonstrated dedication to a cause, level of help toward making a positive change for an individual or for the community, and initiative toward increasing the awareness and involvement of other students in public service. Each nomination is returned to the Middlebury College Alliance for Civic Engagement Office and reviewed by a committee of College students, faculty and staff.