College-affiliated theater group announces summer Off Broadway plays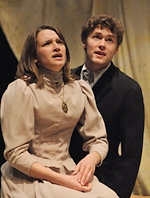 MIDDLEBURY, Vt. - PTP/NYC (formerly known as Potomac Theatre Project), a repertory theatre company under the direction of Middlebury College Professors Cheryl Faraone and Richard Romagnoli and Jim Petosa, Director of Boston University's School of Theatre, will open its 23rd season Off Broadway on June 30.
Thirty students, alumni and faculty from Middlebury College will be a part of the company's two productions: "The Europeans," written by Howard Barker, and "Therese Raquin," written by Neal Bell. Several professional actors and technical staff are also involved in the productions.
The company will be in residence June 30- July 26 at the Atlantic Stage 2 Theater located at 330 West 16th Street in Manhattan. The 2009 season is PTP/NYC's third in New York City. Previously named Potomac Theatre Project, it was based in the Washington, D.C. area for 20 years.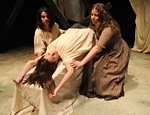 From Howard Barker's The Europeans, Veracity Butcher '09, Aidan Sullivan as Katrin (lying down) and Lauren Fondren '09. Photo: Stan Barouh
"The Europeans," directed by Romagnoli, takes place in war-ravaged Vienna after the Turkish invasion of the late 1600's, during which Christianity and Islam brutally collided. The Emperor craves the normality of the past, but only Starhemburg, the military commander, realizes that a new future must be forged, and sees Katrin - a young woman mutilated, raped and impregnated by the Turks - as the agent for change. Thus begins a harrowing love story. "The Europeans" unapologetically reveals us as primal beasts struggling to learn the love of oneself and finding the spirit to love one another. The show will begin previews July 2 for a July 7 opening and runs through July 26. Cast members include Rishabh Kashyap, Veracity Butcher, Lauren Fondren and Judith Dry of the class of 2008, Jimmy Wong and Emily Kron of the class of 2009, Megan Byrne of the class of 1994, Aidan Sullivan of the class of 1999, and Bill Army of the class of 2007.
From The Europeans, Stephanie Spencer '09 and Michael Kessler '11. Photo: Stan Barouh
"Therese Raquin," originally a novel by Emile Zola published in 1867, is directed by Petosa. It is a dark erotic exploration of the human subconscious, told through a series of short scenes that alternate between comic and horrific. Therese, a young half-French, half-Algerian woman, was unhappily married to her sickly first cousin by a well-intentioned but overbearing aunt. When the opportunity arises, she enters into an affair with her husband's friend, Laurent, leading to brutal and tragic consequences. The show will begin previews June 30 for a July 6 opening and runs through July 26. Cast members include Scott Janes of the class of 1994, Lily Balsen of the class of 2006, Willie Orbison of the class of 2007, Jordan Tirrell-Wysocki of the class of 2008, Stephanie Spencer of the class of 2009, Michael Kessler of the class of 2011, and Peter Schmitz, a former faculty member of the Dance Program.
The design and production team includes Professor of Theatre Mark Evancho, Artist-in-Residence Jule Emerson, Resident Scenic & Lighting Designer Hallie Zieselman, Alex Mark and Maegan Mishico of the class of 2008, Becca Poccia of the class of 2007, and Starrett Barry, Sara Swartzwelder, Danielle Nieves and Samantha Collier of the class of 2009.
Being a part of the celebrated political theatre company is a valuable experience for Middlebury students interested in acting careers. In its 22 seasons PTP/NYC has addressed art, pornography, AIDS, homelessness, censorship, totalitarianism, apartheid and gender wars. PTP's 2007 production of Howard Barker's "No End of Blame" was nominated for four NY Innovative Theatre Awards. The company has also been nominated for seven Helen Hayes awards.
"In this third year in New York, we hope to continue to solidify our standing with the New York City theatrical community and Middlebury's standing as a school with extraordinarily strong arts programs," Faraone said. "The evolution of the company's name from Potomac Theatre Project to PTP/NYC emphasizes our commitment to New York while at the same time recalling our 20 years in Washington and Maryland."
"The greatest aspect of PTP for Middlebury students is the opportunity to work with professional actors," Fondren said. "As a recently graduated theatre major, I am exceedingly grateful for the head start I'll have thanks to PTP should I choose to pursue a career in theatre, in New York or elsewhere."
Tickets are $20 or $10 for students and seniors and are available at www.TicketCentral.com or by phone at  212-279-4200 . Tickets for all previews from June 30 to July 5 cost $15. For details about the company, visit www.potomactheatreproject.org.