College's Axinn Center at Starr Library wins awards for sustainable design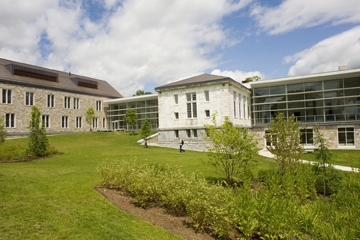 MIDDLEBURY, Vt. ? Earlier this spring, the Donald E. Axinn '51, Litt. D. '89 Center for Literary and Cultural Studies at Starr Library received a Sustainable Design Award from the Boston Society of Architects (BSA) and an Excellence in Architecture award from the Society for College and University Planning (SCUP). Sustainability is an integral part of the culture at Middlebury College, which has pledged to become carbon neutral by 2016.
According to a news release from the building's architects, Boston-based Childs Bertman Tseckares (CBT), the awards are an affirmation of the high quality planning, design and service efforts associated with the facility. The BSA is Boston's local American Institute of Architects (AIA) chapter, and the SCUP award recognizes best practices and emerging trends related to planning in higher education.
Located on the historic Old Stone Row quad at Middlebury College, the 82,400 square foot project preserved the original neoclassical Starr Library and the modernist Shepley Pavilion Reading Room, and added 50,000 square feet of new space. Previous additions, which engulfed the original library, were deconstructed and reclaimed materials were used in the new project. The historic reading rooms in the library were restored, other existing spaces were adapted as classrooms, and a 65-seat screening room was added. Two new symmetrical wings, designed to reference the style and character of the college's original Old Stone Row buildings, provide offices for the departments of history, film and media culture, English and American literatures, and the program in American studies. The new space accommodates faculty offices, technologically "smart" classrooms, a 45-seat tiered classroom, 2-story film production and editing studios, and a light-filled winter garden which overlooks a sustainably landscaped, south-facing courtyard.
 "The Axinn Center at Starr Library is a remarkable result of the sensitive adaptation of an historic building to new purposes," said Director of the Arts Glenn Andres, who is an expert on the college's historic architecture. "The beautiful historic core has been preserved and adapted to provide state-of-the-art screening and smart classroom facilities that give it new life as one of our most progressive academic buildings on campus."