Middlebury awards Fellowships in Environmental Journalism for 2009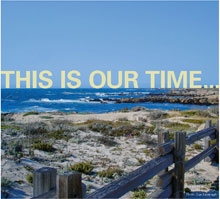 MIDDLEBURY, Vt. ? Administrators of the Middlebury College Fellowships in Environmental Journalism recently announced 10 fellowship recipients for 2009. The program, in its third year, is designed to support intensive, year-long reporting about environmental issues by journalists at the start of their careers. According to Bill McKibben, scholar in residence in Environmental studies and program director, the pool this year included "a fiercely competitive field of applicants."
"There were at least 30 proposals equally deserving," said McKibben, author of "Deep Economy" (2007) and "The End of Nature" (1989). "But the range of stories allowed us to pick among the most immediate and pressing, the ones we felt most needed to be told and were least likely to be reported otherwise."
Each fellow receives $10,000 toward reporting expenses. In addition to the working journalists, current Middlebury students may also receive fellowships and a stipend of $4,000 based on a story they propose and the quality of their writing samples.
The fellows meet at Middlebury College in the fall and at the Monterey Institute of International Studies, in California, in the spring. At each site, they participate in a group workshop and edit their stories with McKibben, Associate Director Christopher Shaw and a visiting reporter. The visiting reporters will be Ted Conover, author of "Newjack" (2000), for the fall session, and former New York Times reporter Keith Schneider for the spring session.
The program was established partly to fill a perceived gap in deep reporting on environmental issues caused by cutbacks in magazine and newspaper budgets. That problem has only gotten worse, McKibben said. "We're gearing a lot of our discussions toward changes in journalism and publishing, and hoping to help re-imagine them as we go along." 
"This third year represents the midpoint of our funding period," added Shaw. "We've been lucky to work with such an incredible and multifaceted team of writers, and we're using this year to look at what we've done so far and what we hope to accomplish in our last two."
Stories reported and written during past fellowship years have appeared in Mother Jones, Virginia Quarterly Review, Grist and Gourmet.
This year's selected fellows and their topics include:
. Bidisha Banerjee of New Haven, Conn., "Walking the Ganges"
. Meriwether Hardie of Charlotte, Vt., "The effects of soy agribusiness in Argentina on Mapuche Indians' world view"
. Sam Kean of Washington, D.C., "Controversy surrounding a proposed South Dakota refinery that will process tar sands crude"
. Jeremy Miller of Denver, Colo., "The exploitation of mercury tainted oil fields in central California"
. Nick Miroff of Arlington, Va., "The environmental legacy of the Cuban Revolution"
. April Rabkin of Beijing, "The mass popularity of GDP as an index of happiness and well-being in China"
. Molly Samuel of San Francisco, "Island biogeography of California ecosystems, a series for radio"
. Elizabeth Ulion of Chicago, "The adverse effects of large-scale marijuana cultivation in the southern Sierra Nevada"
. Christopher Weber of Chicago, "What to do with factories abandoned in the automotive industry collapse"
The Middlebury College senior receiving a fellowship this year is Sierra Murdoch, reporting on the resistance to mountaintop removal mining among Virginia coal miners.
Fellows in the program were selected based on letters outlining their projects. "We were looking for issues big enough to stretch people, to make them more able journalists," said Shaw. "The $10,000 stipend won't be enough, obviously, to support someone for a year, but it should give them the time and resources for a powerful project."
For more information about the Fellowships in Environmental Journalism, visit the Web site.