Nine Saturdays, nine films, nine languages: Summer film festival under way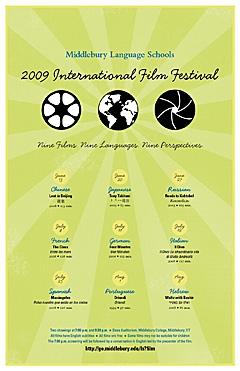 MIDDLEBURY, Vt. - Beginning Saturday, June 13, and continuing through Saturday, Aug. 8, the Middlebury Language Schools International Film Festival will feature a major film in each of the following languages - Chinese, Japanese, French, German, Italian, Spanish, Portuguese, Hebrew and Russian.
The films, which are subtitled in English, will be shown at Dana Auditorium in the Sunderland Language Center, located on College Street (Route 125) and are free and open to the public. Showings are at 7 and 9:30 p.m. Guests are asked to minimize their use of English in the presence of Language School students. A schedule of the film festival is available online.
Friday, June 12, marks the beginning of the Middlebury
Language Schools summer sessions. Filmgoers from the community are invited to participate in a discussion after the 7 p.m. screening each week. The discussions will be conducted in English and closed to the Language Schools' students because of their Language Pledge, a formal commitment to speak only the language of study for the entire session.
For more information contact Middlebury Language Schools at 802-443-5510.
2009 International Film Festival schedule:
Saturday, June 13, 7 and 9:30 p.m.
"Píng-guo" (Lost in Beijing)
Directed by Yu Li
Chinese with English subtitles
Set against the frenzied backdrop of Beijing, where a rapidly growing economy has created a new class of urban nouveau riche, Lost in Beijing tells the story of a tragicomic ménage-à-quatre. An-kun and his wife Píng-guo have built a modest living for themselves in Beijing following their move from China's poorer northeast. An-kun works as a window-washer, and Píng-guo is a foot masseuse at a parlor owned by Dong, a rich middle-aged businessman who epitomizes China's newly money-obsessed society. When Píng-guo returns to the massage parlor following a liquid lunch break, Dong takes advantage of her drunken state, forcing himself on her while unaware that An-kun, outside the office window, is witness to it all. An-kun decides to blackmail Dong, but when Píng-guo learns that she's pregnant, the stakes get even higher. In a brokered deal that includes Dong's wife, the fate of the child will join these couples in an emotional tug-of-war between money and revenge, where love and redemption may just rise above all else.
Saturday, June 20, 7 and 9:30 p.m.
"Tony Takitani"
Directed by Jun Ichikawa 
Japanese with English subtitles
Issey Ogata stars as the title character, a simple, undemanding mechanical draftsman who lives a lonely existence, his mother having died shortly after he was born, and his father, also played by Ogata, a jazz musician who is rarely around. When Tony meets the young and beautiful Eiko, he falls for her instantly despite their 15-year age difference. Their friendship slowly develops into love, and Tony soon discovers that Eiko is a shopaholic who cannot stop buying clothing. When tragedy strikes, Tony is forced to look at his life in an entirely different way. Tony Takitani is told with a soft, deliberate narration, a gorgeous, spare score, and stark, captivating cinematography. 
Saturday, June 27, 7 and 9:30 p.m.
"Koktebel" (Roads to Koktebel)
Directed by Boris Khlebnikov and Alexei Popogrebsky
Russian with English subtitles
After his wife's death and the loss of his job, an aerodynamics engineer sets off from Moscow with his 11-year-old son for his sister's house in Koktebel by the Black Sea. With no money or means of transport, they drift, at the mercy of chance, through the expansive and mesmerizing landscapes of Russia. The father is content to meander as he tries to rebuild his self-respect, piece together his broken life, and win back the trust of his son. Meanwhile, the boy impatiently dreams of reaching the mythic coastal resort to start a new life of carefree emancipation. When the father meets and falls for a beautiful young doctor, the boy sees her as an intrusion on the only loving relationship in his life and sets off to complete the journey by himself. 
Saturday, July 4, 7 and 9:30 p.m.
"Entre les murs" (The Class)
Directed by Laurent Cantet
French with English subtitles
François and his fellow teachers prepare for a new year in one of France's toughest high schools. Armed with the best intentions, they brace themselves against discouragement and try to give their students the best possible education. Cultures and attitudes clash in the classroom, a microcosm of contemporary France, and although the teenaged students can be amusing and inspiring, their difficult behavior is capable of jeopardizing any teacher's enthusiasm. Neither stuffy nor severe, François (played by François Bégaudeau, author of the best-selling book upon which the film is based) insists on an atmosphere of respect and diligence and exhibits an extravagant frankness that takes his students by surprise. His ethics are put to the test, however, when they begin to challenge his methods. "The Class" won the Palme d'Or at the 2008 Cannes Film Festival and was France's official submission for best foreign language film at the 2009 Academy Awards.
Saturday, July 11, 7 and 9:30 p.m.
"Vier Minuten" (Four Minutes)
Directed by Chris Kraus
German with English subtitles
"I only care about music," snaps Frau Traude Krüger, the withered piano teacher at a women's prison. Forced by Nazis to betray her dissident lover in order to preserve her career, Traude has been shackled by remorse for decades. Her longing to be redeemed is re-awoken by Jenny, a convicted young killer whom Traude consents to teach in spite of her insolent and violent nature. With renewed purpose, Traude obsessively grooms the former prodigy to win a prestigious piano competition, and, as the two women do battle over musical technique and form, secrets are revealed and true intimacy grows. No longer willing to settle for choosing between artistic ambition and personal expression, or self-preservation and human connection, Jenny and Traude have one chance at liberation on their own terms.
Saturday, July 18, 7 and 9:30 p.m.
"Il Divo: La straordinaria vita di Giulio Andreotti"
Directed by Paolo Sorrentino
Italian with English subtitles 
Award-winning filmmaker Paolo Sorrentino writes and directs this cinematic portrait of seven-time Italian Prime Minister Giulio Andreotti, whose controversial legacy peaked when he was tried for Mafia ties and subsequently acquitted. A leader with close ties to the Vatican, Andreotti was also tried and acquitted for the murder of an Italian journalist. He remains a senator for life. "Il Divo" won the Jury Prize at the 2008 Cannes Film Festival.
Saturday, July 25, 7 and 9:30 p.m.
"Polvo nuestro que estás en los cielos" (also released as "Masangeles")
Directed by Beatriz Flores Silva
Spanish with English subtitles
In this period drama set in mid-1960s Uruguay, a young girl comes of age in a maelstrom of corruption and violence. Leading politician Aurelio Saavedra brings home seven-year-old Masángeles, his illegitimate child, after the unexpected suicide of her mother. She finds herself growing up in a manic household ruled by a self-centered tyrant while, outside, Uruguay teeters on the brink of civil war. When she turns thirteen, Masángeles discovers a secret passageway in their home that leads to a nearby church sanctuary, a storehouse for guns and ill-gotten cash. She falls in love with her stepbrother Santiago, who has joined the rebels fighting against the state; before long, he is on the run from his father's forces and Masángeles has discovered that she's pregnant. An ambush against Santiago and his comrades sets the house on fire just as Masángeles is giving birth, forcing her to take shelter in the secret passage.
Saturday, August 1, 7 and 9:30 p.m.
"Oriundi"
Directed by Ricardo Bravo
Portuguese with English subtitles
In this funny, poignant and tragic love story, Anthony Quinn gives a brilliant performance as 93-year-old patriarch Giuseppe Padovani, an Italian immigrant witnessing the crumbling of his family business at the hands of his descendants. Nearing the end of his life, Giuseppe finds himself longing for his one true love, Caterina, the woman he married and then tragically lost in an airplane accident 60 years earlier. When Caterina suddenly and inexplicably appears to him in the guise of a beautiful young relative, he begins to question both his reality and his sanity. Filmed entirely on location in the picturesque city of Curitiba, a city of immigrants in southern Brazil, Oriundi celebrates those who come from distant shores to build a better life, as well as the beauty and passion that are to be found even in suffering.
Saturday, August 8, 7 and 9:30 p.m.
"Vals Im Bashir" (Waltz with Bashir)
Directed by Ari Folman
Hebrew with English subtitles
One night at a bar, an old friend tells director Ari Folman about a recurring nightmare in which he is chased by 26 vicious dogs - always the same number of beasts. The two men conclude that there's a connection to their Israeli Army mission in the first Lebanon War of the early 1980s. Ari is surprised that he can no longer remember anything about that period of his life. Intrigued by this riddle, he decides to meet and interview old friends and comrades around the world in order to discover the truth about that time and about himself. As Ari delves deeper and deeper into the mystery, his memory begins to creep up in surreal images. "Waltz with Bashir" was the first animated film to be nominated at the Academy Awards for Best Foreign Language Film.