Physics Department invites public to observatory open house nights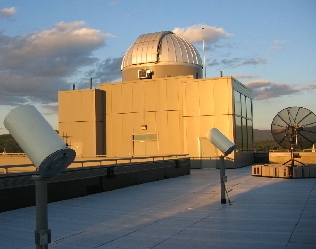 Middlebury, Vt. — The Physics Department at Middlebury College announces the schedule for its summer series of Open House nights at the College Observatory.  The observatory, located atop McCardell Bicentennial Hall, will be open to the public for viewing the heavens on the following Wednesday evenings June 24, July 1, July 22, and July 29, plus Monday July 6, from 9-10:30 p.m. each evening if mostly clear skies are expected during the scheduled hours.
 
This season's public nights will help to celebrate the International Year of Astronomy, with events worldwide marking the 400th anniversary of the first use of an astronomical telescope by Galileo in 1609.  Appropriately, Jupiter and its four bright moons that were discovered by Galileo will be prominent in the evening sky all summer.  First-time viewers will be able to experience the excitement Galileo himself must have felt in first seeing them.  
 
The observatory dome houses a 24-inch computer-controlled telescope.  In addition, several smaller telescopes will also be available on the roof deck for observing the night sky. There is no set program for the open house and the public is invited at any time between 9 and 10:30 p.m.
 
The observatory is located on the western edge of the College campus.  Follow state route 125 West from the village center, through the campus. Approximately 0.1 mile past a flashing light at the crest of the hill, turn right onto Bicentennial Way, which leads to a parking lot and McCardell Bicentennial Hall.  Enter the building and take the elevators to the top (7th) floor.  
 
All these events are free and open to the public, but will take place only if the sky is at least mostly clear.  If the weather appears uncertain, visitors may call the observatory at 443-2266, after 7 p.m. on the evening of the open house for a status report.