Fulbright Foundation awards scholarships to five from Middlebury
MIDDLEBURY, Vt.-One member of the Class of 2004, a candidate for the Doctor of Modern Languages degree and three recent graduates of Middlebury College have received Fulbright U.S. Student Scholarships to work, study, and travel abroad in 2009-2010.
The Fulbright scholars from Middlebury are headed to Germany, Morocco, Spain and Switzerland as part of the renowned international educational exchange program established in 1946 by the late Senator J. William Fulbright.
Grace Duggan '09, of New York, N.Y., received an English Teaching Assistantship in Spain with elementary-age children. As she wrote in her grant application, "I want to be that teacher. The one you remember 10 years down the line: their name, their teaching style, how they made you love that one hour of the day. I want to be that teacher … I want to spend the year working with young kids in Spain."
While at Middlebury, Duggan lived in the Spanish House, attended the Spanish School summer immersion program and paid close attention to the history, politics, culture and current events of Spain. Now, as a Fulbright scholar, she will put her learning, enthusiasm, and fluency to practice because, as she explains, "I believe that foreign language instruction at a young age is vital to one's future proficiency in the language."
Duggan majored in English at Middlebury and was a peer tutor in writing at the Center for Teaching, Learning and Research. The associate director of the writing program, Mary Ellen Bertolini, said Grace's "intelligence, organization and competence combined with a caring, warm personality add up to a young woman who will bring honor to the United States."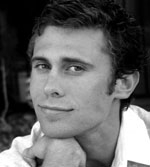 George Philip LeBourdais '04
George Philip LeBourdais '04, of Harpswell, Maine, is about to embark on a research project titled "Art and the 'The Alpine Myth': On Representing Geographic Identity in Switzerland." LeBourdais, who triple majored at Middlebury in French, Italian and the history of art, will explore the evolution of modern Alpine consciousness in Swiss art to understand its impact on museological, social and political practices in Switzerland.
"The Alps form more than stage design for the play of humanity; they themselves are integral characters in the narrative of European modernity," he wrote in his Fulbright application. While LeBourdais' research will be based at the library and archives of the University of Lausanne, he also plans to visit museums in Zermatt, Berne, Geneva, Zurich, Basel, and Lugano.
After Middlebury, LeBourdais earned a master's degree in art from Williams College where, until this year, he was a visiting lecturer and curatorial assistant. His graduate advisor, Professor Marc Gotlieb of Williams, said, "George Philip has developed a fascinating project around historical and contemporary art that seeks to represent Swiss national identity. Thanks to his art historical background, strong language skills, and professional commitment, the project promises to break new ground in this emerging field." In 2010, after his Fulbright, LeBourdais will begin a doctorate in art history at Stanford University.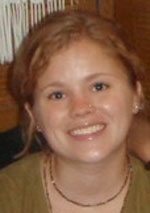 Caitlyn Olson '09
Caitlyn Olson '09, of Mercer Island, Wash., has a Fulbright scholarship to travel to North Africa and launch a research project called "Negotiating the New Reconquista: Catholics and Muslims in 1930s Morocco." As Olson explains, the original reconquest of the Iberian Peninsula occurred between 800 and 1500 when Christian forces overthrew Muslim rulers. Centuries later, General Francisco Franco drew upon this historical theme to frame his rebellion against the Spanish republic in 1936 as the "New Reconquista."
Olson plans to spend the year in the Moroccan city of Tetouan, Franco's headquarters during the onset of the Spanish Civil War and a rich source of literary material. Using texts, diaries, official documents, newspapers, and interviews, she hopes to make a valuable contribution to scholars' understanding of how Catholic Spanish and Muslim Moroccans framed their religious relationship during the first half of the 20tth century.
A summa cum laude graduate of Middlebury with a major in religion, Olson spent a year studying in southern Spain, is fluent in Spanish, and has the equivalent of two years of Arabic language studies. One of her teachers, Assistant Professor Elizabeth Morrison, told the Fulbright committee that Olson sets "a fine example of comparative thinking, often bringing up parallels, analogies and counter-examples from the religious cultures and traditions she has studied in other classes."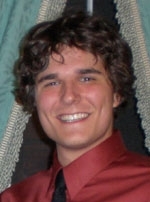 Alec Weltzien '09
Alec Weltzien '09, of Dillon, Mont., was awarded an English Teaching Assistantship for the 2009-10 academic year in Germany. A double major in both German and history, Weltzien graduated summa cum laude with highest honors in history. While at Middlebury he attended the German School, studied for a year at the Freie Universität in Berlin, and served as a resident assistant in the German House on campus.
Weltzien's teaching assignment in Germany will bring together three of his most passionate pursuits: language, history and culture. A former living history reenactor on the Lewis and Clark Trail in his native Montana, Weltzien plans to explore a career in teaching and sees his Fulbright as an opportunity to gain valuable classroom experience. "My assistantship," he explains, "will be at the intersection of my devotion to German studies and my desire to educate others."
Two Middlebury faculty members from Germany, Professor Roman Graf and Associate Professor Bettina Matthias, supported Weltzien's candidacy for the Fulbright scholarship. Graf remarked: "Alec is a superb representative of the U.S.! Germans need to meet more Americans like him." Matthias said Weltzien will be "a very motivating, understanding, yet demanding teacher of English and the cultures associated with the language, and students [in Germany] will profit from his experience and participation."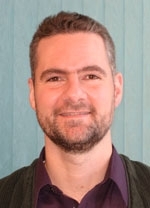 David Wildermuth
David Wildermuth of Saratoga Springs, N.Y., is a candidate for the Doctor of Modern Languages degree in German and Russian at Middlebury, and his Fulbright research will support his doctoral dissertation for the College's highest academic degree. A graduate of SUNY-Cortland with master's degrees in both German and political science from Bowling Green University, Wildermuth has been a lecturer in German at Skidmore College since 2004.
His project is titled "The War of Annihilation at the Divisional Level: The Case of the 35th Infantry Division." As Wildermuth explains, "Recent controversies in Germany surrounding two German army exhibits have given new impetus to research the role of the German army, or Wehrmacht, in Hitler's war of annihilation against the Soviet Union … [The] crucial question is: to what extent did the average soldier know about and participate in the crimes against humanity on the eastern front?"
Wildermuth plans to interview living members of the division and German citizens and scholars, in addition to examining archives in Berlin, Munich, and small towns throughout southwest Germany. His advisor, Middlebury German School Director (and Allegheny College Professor) Jochen Richter, said, "[T]he controversy about the role of the Wehrmacht needs to be researched further to avoid emotional judgments and unsupported opinions. Since few cases have been published, David Wildermuth's contribution has the potential to become important work."
The U.S. Department of State and the Bureau of Educational and Cultural Affairs sponsor the Fulbright Program. It operates in more than 140 countries, and in its 63-year history about 110,000 Americans have studied, taught, or researched abroad, and about 180,000 people from other countries have engaged in similar activities in the United States.
The aim of the Fulbright Program is "to increase mutual understanding between the peoples of the United States and other countries, through the exchange of persons, knowledge, and skills."
Middlebury students interested in applying for Fulbright Scholarships work with the Office of Student Fellowships and Scholarships.