Summer issue of New England Review features fiction, poetry and prose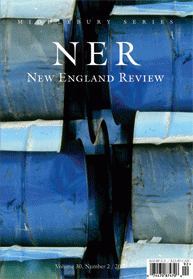 MIDDLEBURY, Vt. ? New England Review (NER), a national literary quarterly published by Middlebury College, has released its latest issue (Vol. 30, No. 2). The issue is available in the Middlebury College Book Store and through the journal's Web site.
The issue features new work from nationally acclaimed authors as well as emerging writers. In nonfiction, Theodore Leinwand follows Ted Hughes through the labyrinth of meaning in Shakespeare; David C. Dougherty offers a look at Stanley Elkin's foray into the movie business; Nancy O'Connor translates an essay on the modern predicament of Charles Baudelaire; Erasmus Darwin explores the mysteries of the Portland Vase; and Kate Cambor chronicles Sigmund Freud's arrival in Paris, the capital of Victorian hysteria. Geoffrey Becker, Lucy Berrington, Edward Hardy, Gary Lee Kraut, Norman Lock and ArLynn Leiber Presser have contributed new works of fiction, and two personal essays are included from Michael Coffey and Michael Milburn. The issue also features new poetry from Dilruba Ahmed, Dick Allen, Debora Greger, Laura Kasischke, Chase Twichell, Christian Wiman and David Yezzi.
In other news from NER, Rebecca Makkai's story "The Briefcase," published in Vol. 29, No. 2, was recently selected for "Best American Short Stories 2009" and "Best American Nonrequired Reading 2009." Alexandra Teague's poem "Heartlines," from Vol. 29, No. 2, was selected for "Best American Poetry 2009," and Joel Brouwer's poem "For What the Hell They Needed It For," from Vol. 29, No. 1, was selected for the "Pushcart Prize XXXIV: Best of the Small Presses."
NER was founded in 1978 and has been a publication of Middlebury College since 1987. The selection of writings in each issue presents and broad spectrum of viewpoints and genres, including a balance of traditional and experimental fiction, translations in poetry and prose, criticisms, letters from abroad, reviews in arts and literature, and rediscoveries.
NER is edited by Fulton Professor of Humanities Stephen Donadio. The poetry editor is C. Dale Young, and the managing editor is Carolyn Kuebler, a 1990 graduate of Middlebury College. Works originally published in NER are regularly selected for the "Best American" series, as well as for "The O. Henry Prize Stories," "Best American Nonrequired Writing," "New Stories from the South: The Year's Best," and for the Pushcart Prize.
For more information, contact Carolyn Kuebler in the NER offices at 802-443-5075 or ckuebler@middlebury.edu.