Two Chinese soloists to perform traditional music on July 11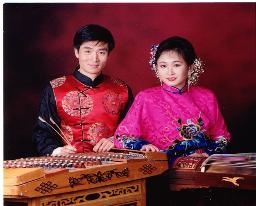 Two Chinese instrument virtuosos, Zhiming Han and Cynthia Hsiang, will perform Chinese music classics on traditional Chinese instruments-the dizi (Chinese flute), the zheng (Chinese zither) and the yang qin (butterfly harp) at the Middlebury College Kevin P. Mahaney '84 Center for the Arts Concert Hall on Saturday, July 11, at 7 p.m.
The program will include a brief overview of traditional Chinese music, as well as original compositions by Han, which blend both Western and Eastern influences. The founders of the Chinese Classical Musical Ensemble, Han and Hsiang have been featured in numerous concerts around the world, including performances with the Hollywood Bowl Orchestra and the San Francisco Symphony. Their music is also featured on the soundtrack of several Jackie Chan movies.
The Mahaney Center for the Arts Concert Hall is located on South Main Street (Route 30). Admission is free and the concert is open to the public. For more information, contact Anna Sun of the Middlebury College Chinese School at 802-443-5520 or sun@middlebury.edu.