Classical Theatre of Harlem presents "Waiting for Godot" in post-Katrina landscape Sept. 22-23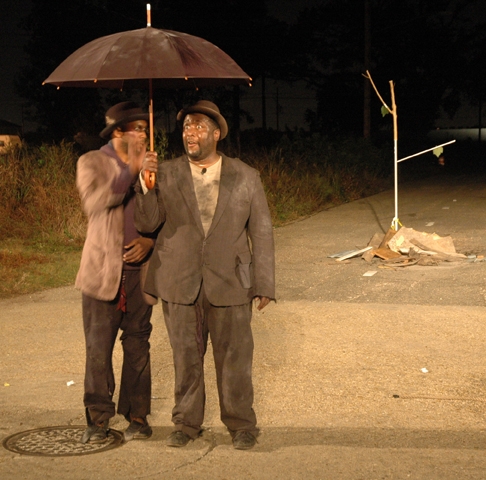 MIDDLEBURY, Vt. ? At 7:30 p.m. on Tuesday and Wednesday, Sept. 22 and 23, the award-winning and nationally acclaimed Classical Theatre of Harlem will perform Samuel Beckett's "Waiting for Godot" in the Middlebury College Wright Theatre.
The Classical Theatre of Harlem (CTH) reinvents Beckett's seminal work with an imaginative production set in a post-Hurricane Katrina landscape. After a highly acclaimed 2006 run in New York City, the production travelled to New Orleans' Ninth Ward for a series of free outdoor performances that spurred nationwide dialogue on race, class, and the agony of waiting.
 
Founded in February of 1999, CTH is a not-for-profit professional theatre company that grew out of the success of a Shakespeare workshop they taught at the Harlem School of the Arts in the fall of 1998. The company's main objective is to return the classics to the stages of Harlem and nurture a new, young and culturally diverse audience, while also creating employment and educational outreach opportunities in the theatre arts. Since its founding, CTH has presented over thirty productions that have included numerous works by Anton Chekhov, Euripides, Jean Genet, Langston Hughes, Adrienne Kennedy, William Shakespeare, Melvin Van Peebles, Derek Walcott and August Wilson, among many others. They have won numerous awards and accolades.
A recent reviewer from the New York Times wrote "… the Classical Theatre of Harlem is a troupe that makes a habit of locating the most challenging works in the canon and knocking them off as if with a slingshot."
This event is sponsored by several Middlebury College organizations including the Performing Arts Series, the Department of Theatre and Dance, and the Office for Institutional Planning and Diversity. Wright Theatre is located on Château Road off College Street (Route 125). Tickets are $24. Contact the Middlebury College Box Office at 802-443-6433 or http://www.middlebury.edu/arts/tickets/.