Conservation expert kicks off Middlebury/Monterey lecture series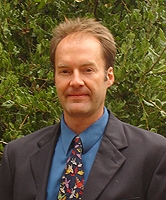 MIDDLEBURY, Vt. ? On Thursday, Sept. 17, at 4:30 p.m., Jeffrey Langholz, associate professor of international environmental policy at the Monterey Institute for International Studies (MIIS), will give the inaugural talk of Global Vision - Global Reach: The Middlebury/Monterey Lecture Series. The talk, titled "Can the Private Sector be Trusted to Protect Nature? Conservation Cowboys in Africa and Latin America," is free and open to the public. It will take place in the conference room of the Robert A. Jones '59 House, located on Hillcrest Road off College Street (Route 125), followed by a reception at 51 Main at the Bridge in Middlebury.
The private sector continues to deliver an increasing number of public goods and services once considered the exclusive purview of governments. Private firms, for example, now provide armies, run prisons, pick up garbage, and even establish protected natural areas such as parks. Langholz's presentation summarizes 15 years of research into the "private protected area" phenomenon worldwide. Drawing from examples in Sub-Saharan Africa and Latin America, Langholz describes the strengths and weaknesses of private conservation with an emphasis on mounting concerns about quality.
Langholz is a leading conservation expert and a recognized authority on the growing role that private lands play in accomplishing the triple goals of biodiversity conservation, economic development and social justice. His teaching and research focus on biodiversity conservation and sustainable development worldwide. He is founder and director of the Monterey Institute's Conservation Leadership Practicum and former head of its 70-student master's program in International Environmental Policy. He is a past member of the International Union for Conservation of Nature's World Commission on Protected Areas, and a recent Fulbright Scholar in South Africa.
"Jeff brings a specialized area of strength in international conservation leadership that will be of particular interest to Middlebury faculty, students, staff and others," says Middlebury Dean of Environmental Affairs Nan Jenks-Jay, who is organizing the new speaker series. "The exchange of faculty visitors between Middlebury and Monterey brings together the strengths of the liberal arts education with the applied knowledge and skills of a professional graduate school."
The speaker series was established for Middlebury College and its affiliate Monterey Institute for International Studies to promote shared expertise and education through the exchange of faculty speakers as the two deepen their integration. Over the coming academic year, the series will feature two more Monterey speakers at Middlebury and three Middlebury speakers at Monterey. Future speaker dates will be announced on the Middlebury and MIIS Web sites.
While on campus, Langholz will also present a talk titled "Critical Skills and Knowledge for Conservation Leadership" at the Howard E. Woodin Colloquium Series on Thursday, Sept. 17, at 12:30 p.m. in Franklin Environmental Center at Hillcrest, located on Hillcrest Road off College Street (Route 125). This talk is also free and open to the public.
For more information contact Janet Wiseman at 802-443-5710 or email jwiseman@middlebury.edu.
— end —