Jazz pianist opens 90th season of Performing Arts Series on September 18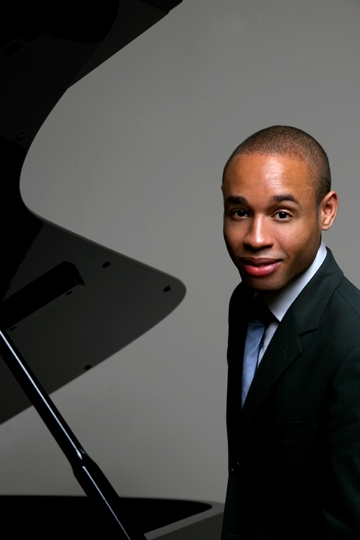 MIDDLEBURY, Vt. ? At 8 p.m. on Friday, Sept. 18, jazz pianist Aaron Diehl will make his first appearance at Middlebury College in the Mahaney Center for the Arts Concert Hall. His performance marks the start of the 90th season of the Performing Arts Series.
Hailed by the Chicago Tribune as "the most promising discovery that Wynton Marsalis has made since Eric Reed," Diehl's distinctive piano interpretations pay homage to the tradition while establishing his own original voice. In coming to Middlebury, Diehl follows in a long tradition of jazz excellence that includes previous college performances by notable jazz masters such as Duke Ellington, Dizzy Gillespie, Abdullah Ibrahim, the Marian McPartland Duo, Dick Hyman, Marcus Roberts and Cyrus Chestnut.
A native of Columbus, Ohio, Diehl is a 2007 graduate of the Juilliard School where his teachers included Kenny Barron, Eric Reed and Oxana Yablonskaya. His honors include receiving Lincoln Center's prestigious Martin E. Segal Award in 2004, winning the 2003 Jazz Arts Group Hank Marr Jazz Competition, and earning the title of Outstanding Soloist at Jazz at Lincoln Center's 2002 Essentially Ellington Competition.
Diehl has performed with the Wynton Marsalis Septet, Jazz at Lincoln Center Orchestra, The Boston Symphony Orchestra, Hank Jones, Wycliffe Gordon, Wessell Anderson, Benny Golson and Loren Schoenberg. He has been featured on Marian McPartland's NPR radio show "Piano Jazz." His international touring includes major European jazz festivals as well as performances in South America and Asia. "Mozart Jazz," his first recording as a leader, was released in 2006 on the Pony Canyon label. He currently resides in Manhattan where he serves as music director of St. Joseph of the Holy Family Church in Harlem.
For his performance at Middlebury, Diehl will be joined by David Wong on bass and Quincy Davis on drums.
This event is sponsored by the Middlebury College Performing Arts Series. The Mahaney Center for the Arts Concert Hall is located on South Main Street (Route 30). Reserved seating tickets are $24. Contact the Middlebury College Box Office at 802-443-6433 or http://www.middlebury.edu/arts/tickets/.