Stargazers welcome: College observatory offers open house night October 2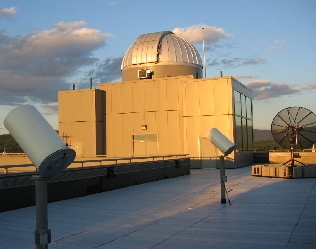 MIDDLEBURY, Vt. - The Middlebury College Physics Department will host a fall Open House night at McCardell Bicentennial Hall's rooftop observatory on Friday, Oct. 2, from 8-9:30 p.m., weather permitting. The public is invited to come anytime during these hours. Admission is free.
According to Middlebury College Professor of Physics Frank Winkler, Jupiter and its moons will be prominently visible. The nearly full Moon will also be on view, of course, as will a number of interesting and colorful stars seen through the 24-inch computer-controlled telescope in the observatory dome and through several smaller telescopes on the roof observing deck.
Since cloud cover obscures visibility, the open house will take place only if the sky is reasonably clear. If the weather appears uncertain, call the observatory at 802-443-2266 after 6 p.m. on the evening of the open house for a status report.
McCardell Bicentennial Hall is located on Bicentennial Way on the western edge of the Middlebury College campus. Visitors should follow Route 125 West from the village center through the campus. Bicentennial Way, which is the second right after the flashing light at the crest of the hill, leads to a parking lot and McCardell Bicentennial Hall. Enter the building and take the elevators to the top floor, following the signs.