Two with ties to Middlebury named MacArthur Fellows for 2009
MIDDLEBURY, Vt.-Physician Jill Seaman, Middlebury Class of 1974, and poet Heather McHugh, who has taught several times at the Bread Loaf Writers' Conference, have been named MacArthur Fellows for 2009 by the John D. and Catherine T. MacArthur Foundation. MacArthur Fellows-there are 24 in the Class of 2009-receive $500,000 in "no strings attached" support over five years.
Seaman, who grew up in Idaho and earned her M.D. from the University of Washington School of Medicine, is a physician committed to delivering and improving treatment for infectious diseases endemic to Southern Sudan, one of the most remote, impoverished, and war-torn regions of the world. She also spends part of each year in Bethel, Alaska, providing health services to Yup'ik Eskimo communities.
McHugh, Milliman Distinguished Writer in Residence at the University of Washington-Seattle, is the author of eight volumes of poetry, numerous works of translation,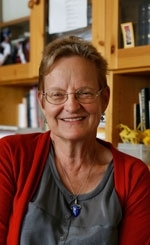 Heather McHugh, who has served as a faculty member at the Bread Loaf Writers' Conference
and a book of essays on poetics. She has been a significant voice in American literary life for almost four decades. In poems that are rich with wordplay-puns, rhymes, syntactical twists-she reveals the complex layers of meaning that individual words or phrases contain.