Contemporary dance company Inspirit to perform October 16-17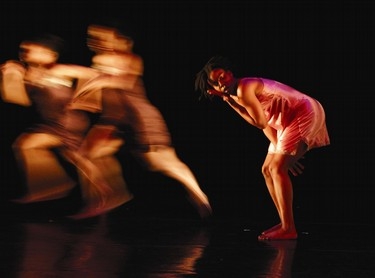 MIDDLEBURY, Vt. ? At 8 p.m. on Friday and Saturday, Oct. 16 and 17, Middlebury College Visiting Lecturer in Dance Christal Brown will present and perform with her New York-based dance company, Inspirit, in Middlebury College's Mahaney Center for the Arts Dance Theater. Brown is founder and artistic director of Inspirit, a company known for creating contemporary works of spiritual exuberance, ancestral strength and startling insight.
Based in the Bronx, Inspirit was founded in 2000 to provide a forum for collaboration among emerging female artists and choreographers living and working in New York. Since its inception, the company has performed extensively throughout New York, as well as in Washington D.C.; Cleveland, Ohio; San Francisco; and at several universities, colleges and high schools around the country.
Brown is a choreographer, educator, performer, writer and activist. A native of Kinston, N.C., she received her bachelor of fine arts in dance from the University of North Carolina at Greensboro. After graduating, Brown toured with Chuck Davis' African-American Dance Ensemble and Andrea E. Woods/Souloworks. She later performed with and managed Gesel Mason Performance Projects while apprenticing with the Liz Lerman Dance Exchange in Takoma Park, Md.
Upon moving to New York, Brown apprenticed with the Bill T Jones/Arnie Zane Dance Company before joining Urban Bush Women, where she spent three seasons as a principal performer, community specialist and apprentice program coordinator before founding Inspirit. Through her athleticism, creativity, love for people and knack for teaching, Brown continues to help create works that redefine the art of dance and the structure of the field.
As part of her residency as a visiting lecturer, Brown and members of Inspirit will host a free discussion about their mission and creative process on Thursday, Oct. 15, from 12:30 - 1:15 p.m. in the Mahaney Center for the Arts Dance Theater.
This event is sponsored by the Middlebury College Performing Arts Series. The Mahaney Center for the Arts Dance Theater is located on South Main Street (Route 30). Tickets are $24. Contact the Middlebury College Box Office at 802-443-6433 or http://www.middlebury.edu/arts/tickets/.