Expert on religious ethics and human rights speaks October 26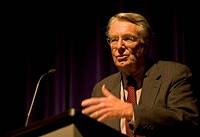 MIDDLEBURY, Vt. ? David Little, a recently retired professor of religion at Harvard, will give a talk titled "The Enduring Significance of the United Nations Declaration on Human Rights" on Monday, Oct. 26, at 4:30 p.m. in Dana Auditorium.
 
The lecture is free and open to the public. Dana Auditorium is located in Sunderland Language Center on College Street (Route 125).
During his talk, Little will focus on the resolution passed last spring by the U.N. that condemns the "defamation of religion" as a human rights violation.
Little is an expert on comparative religious ethics, moral philosophy, human rights and international affairs. In 2009 he retired as a professor at Harvard Divinity School and as an associate at the Weatherhead Center for International Affairs at Harvard University. Until 1999, he was senior scholar in religion, ethics and human rights at the United States Institute of Peace (USIP) in Washington, D.C.  From 1996-1998, he was member of the Advisory Committee to the State Department on Religious Freedom Abroad.
Little is author of several USIP publications on religious intolerance and global violence, including "Islamic Activism and U.S. Foreign Policy" (1997) with Scott W. Hibbard. He has edited two recently published volumes, "Religion and Nationalism in Iraq: A Comparative Perspective" (2007), and "Peacemakers in Action: Profiles of Religion in Conflict Resolution" (2007).
More recently he has been involved in intellectual apologies for the U.N. Declaration of Human Rights against both philosophical skeptics and critics from traditionally religious societies who claim that the concept of individual religious freedom is a particularly Western ideal.
The lecture series is sponsored by the Middlebury College Department of Religion. For more information, contact department chair James Calvin Davis at 802-443-3221 or jcdavis@middlebury.edu.