Mentoring tradition thrives at weekly football clinic for local kids [video]
It's Monday afternoon at the Middlebury town recreation fields and 30 first-third grade boys are bouncing around like ping-pong balls. Their boundless energy isn't just because they've finished the school day. They're excited because it's flag football Monday, and they're about to meet up with older pals from the Middlebury College football team - seven or eight players who come each week during the fall for coaching and mentorship.
Gene DeLorenzo, a community member who took over the program from Middlebury Head Football Coach Bob Ritter a few years ago, skillfully guides the boys into a group and convinces them that a couple minutes of quiet listening will be worth their while. DeLorenzo breaks them into five groups and sends them off to a variety of stations manned by the football players.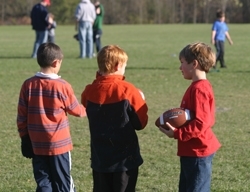 Conferring before they start the punting drill.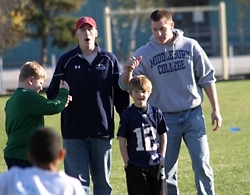 Time to switch stations.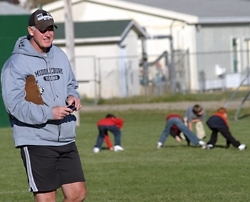 Gene DeLorenzo coordinates the program.
This weekly ritual began several years ago when Ritter wanted to create opportunities for Middlebury kids to get early exposure to football. The emphasis is on fun - no pads or helmets at this point. Now directed by DeLorenzo with strong support from the college players, the program has become a tradition and the Middlebury players really seem to love it.
Andrew DeLoach, a senior defensive back from Kenilworth, Ill., and Steve Hardin, a senior linebacker from Summit, N.J., have been doing the program for four years and have rarely missed a session. It's a considerable commitment during the football season, when Monday is their one day off from practice or games.
"I run the speed and agility station," says Hardin, then laughs. "They hate it, but I tell them it will make them better athletes. It also helps keep them under control and tires them out."
"I'd say it's more about mentoring than actual football skills," says DeLoach. "I work with them on their stance and breakdown for tackles, but more than that, it's about being fair and being good to the other kids. I try to teach them a little humility too."
Like Middlebury's other athletic teams, the football players are involved in numerous mentoring and volunteering programs during the year. They also put on a day-long football clinic during their pre-season for fourth through eighth graders.
"I think the value of the program is as great for our players as it is for the younger kids," says Ritter. "I think when our guys are involved with people in town like this, they learn as much and get as much out of it as the first and second graders."
As the sun starts setting on this chilly October evening, the kids gather for their final cheer. Spirits are still high, but they seem to be moving a bit slower now. Steve Hardin smiles, "If they sleep well on Monday nights, their parents can thank me for that!"
—end—