Author, educator talks December 1 on 'The Making of a School in Vermont'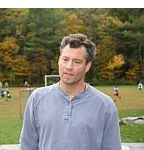 Event Calendar Listing

Tuesday, Dec. 1
4:30 p.m.
Lecture title: "A Room for Learning: The Making of a School in Vermont"
Twilight Auditorium, located on College Street (Route 125)
Admission: FREE
Tal Birdsey, author of the recently published "A Room for Learning: The Making of a School in Vermont," will read from his book on Tuesday, Dec. 1, at 4:30 p.m. in Twilight Auditorium at Middlebury College. The lecture is free and open to the public.
Birdsey is a 1987 graduate of Middlebury College. In 2001, he and a dedicated group of local parents founded the North Branch School in Ripton, Vt. Serving students in grades 7-9, the school is tailored to the unique needs of early adolescence and centers on self-directed and active experiential learning that fosters a strong community and close relationships.
The book has been noted for its candid and inspiring account of founding a small school in Vermont. In reviewing the book, Middlebury College Scholar-in-Residence and author Bill McKibben wrote, "If education interests you - if kids interest you¬ - you'll love this magical story. It's about what happens if you take them seriously, and if you have the grace and agility to hang with them in the tough spots and the glorious ones.
This event is sponsored by the Middlebury College Education Studies Program. For more information, please contact Education Studies Program Coordinator Trish Dougherty at pdougher@middlebury.edu or 802-443-5013.