Director, historical advisor and actor to discuss their experiences working on HBO's "Rome" Nov. 14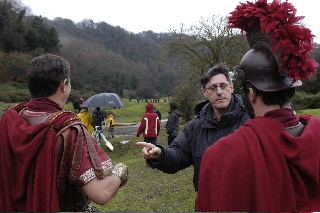 Event Calendar Listing
Saturday, Nov. 14
2 p.m.
"Behind the Scenes of HBO's 'Rome' "
Room 232 in the Axinn Center at Starr Library, located on Old Chapel Road off College Street (Route 125)
FREE

Three key figures in the making of HBO's "Rome" will discuss their experiences behind the scenes of the highly acclaimed series that first aired in 2005. Director Steve Shill, historical advisor Jonathan Stamp and actor Michael Nardone will share clips from the show and exclusive production photographs to explain how "Rome" was conceived, shot and performed at Cinecitta, Italy's most famous film studio from 2004 to 2007.
Shill, who has also directed episodes of "The Sopranos," "Dexter," "The Tudors" and "The Wire," will discuss the preparation, shooting, editing and staging of some of the largest battle scenes ever created for television. Stamp, a former head of the BBC's history department and current HBO producer, will explain how the crew approached the historical backdrop to filming, and how his knowledge of the classical world helped provide a rich, powerful and startlingly original vision of the pagan city. Nardone, who portrayed Mascius in the series, will offer an actor's perspective on working for two seasons on one of the most expansive television productions to date. A Q & A session will follow.
This event is sponsored by the Middlebury College Classics Department and Ross Commons. For more information, please contact Classics Department Coordinator Trish Dougherty at pdougher@middlebury.edu or 802-443-5013.