Authors Nicholas Kristof, Sheryl WuDunn to give commencement address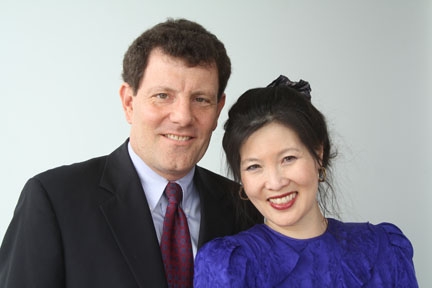 MIDDLEBURY, Vt.-New York Times columnist Nicholas D. Kristof and author Sheryl WuDunn will co-deliver the 2010 Middlebury commencement address on Sunday, May 23. The two speakers, husband and wife, will each receive a Doctor of Letters degree. They are co-authors of "Half the Sky: Turning Oppression into Opportunity for Women Worldwide" (2009), "China Wakes: The Struggle for the Soul of a Rising Power" (1998), and "Thunder from the East: Portrait of a Rising Asia" (2000). All three books have been best sellers. (Information about the other honorary degree recipients is available in a subsequent announcement.)
"We are honored to have Nicholas Kristof and Sheryl WuDunn deliver the commencement address for the class of 2010," said Middlebury College President Ronald D. Liebowitz. "Their most recent work, 'Half the Sky,' focuses on the horrific plight of women throughout much of the developing world, and illuminates the many independent yet reinforcing threats that women face: the lack of physical safety, the denial of educational and economic opportunities, and the absence, generally, of fundamental freedoms."
Liebowitz added, "Kristof and WuDunn's exceptional journalistic talents offer us a remarkably clear picture of a major scourge of the 21st century. Kristof and WuDunn remind us, 'In the 19th century, the paramount moral challenge was slavery. In the 20th century, it was totalitarianism. In this century, it is the brutality inflicted on so many women and girls around the globe.' By putting the problem in such a stark context, this year's commencement speakers will challenge students, whatever professions they pursue - law, medicine, scientific research, social work, finance, elected office, the arts or education - to become more cognizant of the conditions faced by such a large portion of humanity, and, consequently, of the enormous and broad-based opportunities for liberal arts graduates like themselves to engage and address such gross injustice."
In August 2009, Kristof and WuDunn wrote, in a New York Times article titled "The Women's Crusade," that "if the injustices that women in poor countries suffer are of paramount importance, in an economic and geopolitical sense the opportunity they represent is even greater. 'Women hold up half the sky,' in the words of a Chinese saying, yet that's mostly an aspiration: in a large slice of the world, girls are uneducated and women marginalized, and it's not an accident that those same countries are disproportionately mired in poverty and riven by fundamentalism and chaos."
In 1990 Kristof and WuDunn won a Pulitzer Prize for their coverage of China's Tiananmen Square democracy movement. They were the first married couple to win a Pulitzer for journalism. Kristof won a second Pulitzer in 2006 for what the judges called "his graphic, deeply reported columns that, at personal risk, focused attention on genocide in Darfur and that gave voice to the voiceless in other parts of the world." He has won other prizes including the George Polk award, the Overseas Press Club award, the Michael Kelly award, the Online News Association award, and the American Society of Newspaper Editors award.
Kristof joined the New York Times in 1984 and has been a columnist since 2001. After graduating from Harvard College, Kristof won a Rhodes scholarship to Oxford, where he studied law and graduated with first class honors. He later studied Arabic in Cairo and Chinese in Taipei. As a columnist, Kristof has regularly focused attention on global poverty, health and gender issues, as well as climate change. Since 2004, he has written dozens of columns about Darfur and has visited the region 10 times.  
WuDunn has been leading the development and the multi-media efforts related to "Half the Sky: Turning Oppression into Opportunity for Women Worldwide," including an online social action campaign, a documentary series and a television special. In late October, she became president of the Medley Group, a small firm providing intelligence services to fund managers, while continuing her charitable work in economic empowerment. 
Previously, she worked as a journalist and a corporate executive at The New York Times; as editor for international business and industry; as the first anchor of the Times' evening news headlines program for the digital cable television channel, the Discovery-Times; in management roles in strategic planning and circulation; and as a foreign correspondent in Tokyo and Beijing, where she covered economic, financial, political and social issues. She has also been a vice president in the investment management division at Goldman, Sachs & Co., and a commercial loan officer at Banker's Trust. When WuDunn won a Pulitzer Prize with Kristof for their coverage in China for the Times, she became the first Asian-American to win the prize. She has earned other journalism honors, including the George Polk award and Overseas Press Club awards.
WuDunn graduated from Cornell University, where she is a member of the board of trustees. She attended Harvard Business School, where she earned a Master of Business Administration, and Princeton University, where she earned a Master of Public Administration at the Woodrow Wilson School and was a member of its advisory council. WuDunn speaks Chinese and lectures widely on economic, political and social topics related to women in the developing world, the global economy, China and emerging markets.