From Copenhagen: Students, alums helping shape climate discussion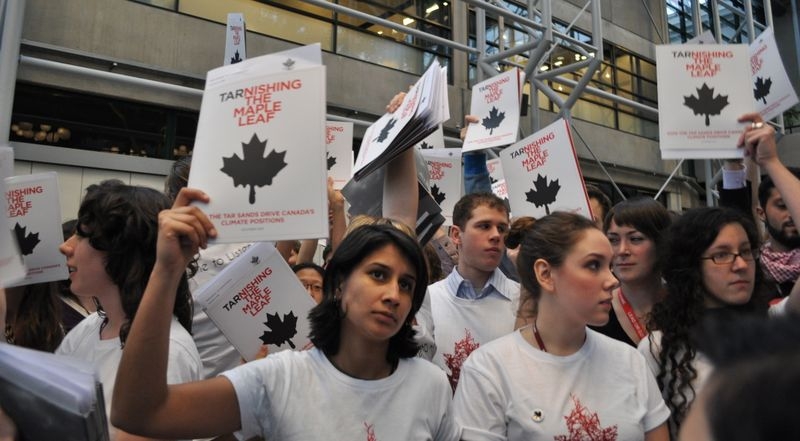 MIDDLEBURY, Vt. As world attention continues to focus on climate negotiations at the United Nations Climate Change Conference in Copenhagen, numerous Middlebury students and recent alumni are at the scene in a variety of roles.
Making a major splash are a group of recent Middlebury graduates - from the classes of 2006 and 2007 - who run the group 350.org, an international climate activism movement co-founded by Middlebury Scholar-in-Residence Bill McKibben and seven former students. The group launched a worldwide campaign last year to bring the number 350 - as in the goal of 350 parts per million of CO2 in the atmosphere - into public awareness.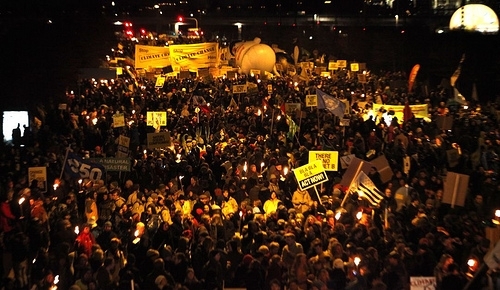 carlganter_350.jpg" border="0" />
A massive rally in the streets of Copenhagen at the U.N. climate talks. Click photo to enlarge. Carl Ganter/350.org photo
Associate Professor of Economics Jon Isham, who is attending the proceedings in Copenhagen, says the former students now running 350.org are having a significant impact on the conference. "I just witnessed a remarkable rally led by Bill [McKibben] and President Nasheed of the Maldives on the stakes for our planet and what we need to do to set things right," says Isham. "Guess who orchestrated the whole thing - and is shaping, in many ways, the tone of the entire 50,000 person gathering? Seven folks not three or four years out of Middlebury!"
Isham says that being at the international gathering really brings into focus the scope of what McKibben and the former students have done. "To be here, in the presence of citizens assembled from all over the world, is to really appreciate what Bill and our seven alums have done. They are regarded as among a small handful of global leaders who have launched something new, powerful and hopeful." Isham is blogging and Tweeting about the conference, as is McKibben on Twitter and numerous blogs.
Several current students are also taking part in the conference. Ben Wessel '11, is part of a 25-person delegation representing the organization SustainUS, a youth-based organization focused on sustainable development. Rhiya Trivedi '12 is at the conference representing the Canadian Youth Delegation and sharing her impressions on Twitter. Theresa McCarty '11 is at the conference representing a Danish wind energy company. The three are planning to hold a panel discussion in January to share their experiences as part of a larger campus discussion of climate policy.
Trivedi, who is particularly interested in policy, says she is spending most of her time meeting with the Canadian delegation at the conference, writing the Canadian Youth Delegation's policy platform, and tracking progress in negotiations to keep everyone in her delegation informed. In a recent Twitter post, Trivedi couldn't mask her frustration with Canada's pace of progress. "Just finished convincing EPA admin Lisa Jackson that Canada is worse than the U.S. Things I never thought I'd do…" she said.
The contingent of Middlebury alumni who now run 350.org include: Jamie Henn '07, Co-founder of 350.org, wrote a letter about the youth movement and Copenhagen published Dec. 7 in the New York Times and is Tweeting about his experiences there. Henn's 350.org colleagues are there as well including: May Boeve '07, Will Bates '06, Jon Warnow '07, Phil Aroneanu '07, Jeremy Osborn '07 and Kelly Blynn '07. And writer Ben Jervey '01 was interviewed by National Public Radio for a story about his involvement with the organization Adopt a Negotiator, a youth organization that tracks the climate negotiators.
— end —