Middlebury's language program for pre-college students opens new site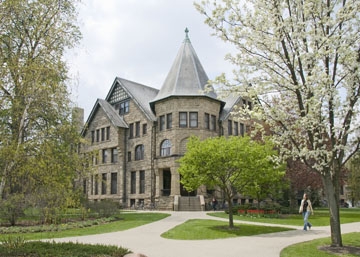 MIDDLEBURY, Vt. - Middlebury College announced today that Oberlin College has been selected as an additional site for the Middlebury-Monterey Language Academy (MMLA) for the summer of 2010. MMLA, a language immersion summer program for pre-college students in its third year of programming, currently offers four-week residential sessions in Arabic, Chinese, French and Spanish on campuses in Vermont and Massachusetts. MMLA is a collaboration between the Language Schools of Middlebury College and the Monterey Institute of International Studies, a Middlebury affiliate and graduate school in Monterey, Calif.
The Oberlin program will bring together 70 educators from around the country and 200 middle and high school students. According to Middlebury administrators, the need for another site is a result of several factors, including an increase in applications and the addition of German as a fifth language, which will initially only be available at the Green Mountain College site. The Arabic program will move entirely to the Oberlin site.
"As we become a more globalized community, the importance of acquiring a second or third language is a necessity," said Middlebury College Vice President of Language Schools, Schools Abroad and Graduate Programs Michael Geisler. "MMLA's immersion approach to the teaching of language and culture - like that of the internationally recognized Middlebury Language Schools - is an ideal way to provide today's young people with the skills and resources to become tomorrow's global citizens."
In 2009, more than 600 students - 15 percent of whom received financial assistance - participated in the program under the guidance of 176 faculty and staff members, including experienced language teachers from public, private and international schools throughout America, Europe, Asia and Africa. Students participating in the academy at all three sites will completely immerse themselves in their language of study and commit to speaking only the target language, both inside and outside the classroom, throughout the program's duration.
"Partnering with the Middlebury-Monterey Language Academy is a great honor for Oberlin," said Oberlin College President Marvin Krislov. "MMLA is a terrific summer language immersion program that fits well with Oberlin's great tradition of internationalism."
MMLA is designed to meet the learning styles of middle and high school students in a fun and challenging environment. Students live in language-specific residence halls, participate in language instruction, and speak their target language in every activity - cooking classes, group hikes, soccer competitions and social events. Through a carefully planned progression of language learning and culture studies designed for beginning to advanced levels, MMLA students are challenged to make language breakthroughs while cultivating new friendships and enjoying themselves.
For more information, visit www.mmla.middlebury.edu or call 802-443-2900.
About the Middlebury College Language Schools
The Middlebury College Language Schools, which began in 1915 with the founding of the German School, have long been a leader in the immersion approach to language learning. Under the guidance of approximately 240 faculty members from colleges and universities throughout the world, students of all ages and nationalities are totally immersed in their target language. Students live the language they have come to study, and all agree to abide by the Language Pledge, a formal commitment to speak the language of study and no other for the entire summer session. In addition, the Language Schools host many public cultural events designed to allow students to practice what they are learning in authentic situations.
Each summer, the college offers three sets of summer sessions for foreign languages: a nine-week session for Arabic, Chinese, Japanese and Russian; a seven-week session for intensive language studies in French, German, Hebrew, Italian, Portuguese and Spanish; and a six-week session for graduate-level French, German, Italian, Russian and Spanish. In 2007, the school initiated a master's degree program in Chinese, which students can earn in four summers at Middlebury's campus or in two summers in Vermont and an academic year at the Middlebury-affiliated Monterey Institute of International Studies in Monterey, Calif. The Arabic and Portuguese sessions offer non-degree, graduate-level courses, also for six weeks. In 2009, Middlebury opened an additional site at Mills College in Oakland, Calif., to allow for the expansion of the graduate level Arabic program.