Romanian pianist Mihaela Ursuleasa brings style and grace to March 3 concert
MIDDLEBURY, Vt. ? Classical music lovers will have the chance to hear a fresh talent at the piano when young Romanian pianist Mihaela Ursuleasa performs at 8 p.m. Friday, March 3, in the Concert Hall in the Middlebury College Center for the Arts. The program for the evening recital will include selections from the 24 Preludes of Shostakovich's opus 34, Robert Schumann's "Carnaval," Ginastera's Sonata No. 1 and Ravel's "Gaspard de la Nuit."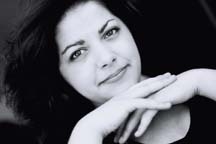 Mihaela Ursuleasa
Born in Romania in 1978, Ursuleasa performed a Mozart concerto at her first public concert at age 8. While still a child, she played concerts in Tokyo and Munich. In her teens, she took part in a variety of international piano competitions, winning first prize at age 16 in the 1995 Clara Haskil Piano Competition. Concerts followed in various European venues including Vienna, St. Petersburg and Frankfurt, where she made a name for herself as a rising young artist. In 1997 she made her Carnegie Hall debut. She graduated with honors in 1999 from the Vienna Conservatory. In 2002 her debut concert at Harrod's International Piano Series in London brought her into the classical music spotlight, where she has been thriving ever since.
Ursuleasa is commended for her grace, style and strength at the keyboard. One Stuttgart critic said she had a "matchless touch" and that her tone "is soft, brilliant, pithy, weighty, but as though measured on a gold balance." Another reviewer declared, "To characterize her playing means to speak of elegance, poetry and power."
In addition to giving her solo recitals, Ursuleasa enjoys playing as a chamber musician. Her collaborations have included appearances with other artists, including soprano Angela Georghiu, the Belcea Quartet, cellist Tanja Tetzlaff and violinists Vadim Repin and Janine Jansen.
Ursuleasa's current American tour includes recitals in San Francisco, New York, Minneapolis, Cleveland and Portland, Ore. Later this year, she plans a recital at the Lucerne Festival in Switzerland. Her Vermont recital is sponsored by the Middlebury College Performing Arts Series.
The Center for the Arts is on South Main Street (Route 30). Reserved seating tickets for the performance are $12 for general admission and $10 for seniors. A pre-performance dinner begins at 6:30 p.m. at Rehearsals Cafe in the Center for the Arts. Reservations are required. For tickets or dinner reservations, call the Middlebury College Box Office at 802-443-6433. Online tickets and information are available at www.middlebury.edu/arts.