Student Wins Gates-Cambridge Fellowship for Genetics Study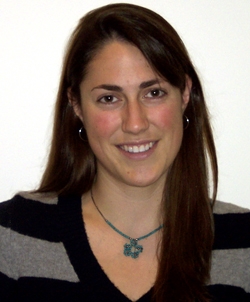 Middlebury, Vt. – Middlebury senior Sky Feuer has been selected as a 2010 Gates-Cambridge Scholar. The prestigious scholarship will fund Feuer for a one-year master of philosophy degree in genetics at Cambridge University. Feuer is the first Middlebury undergraduate to receive a Gates-Cambridge award. The Gates-Cambridge Trust interviews approximately 300 students from the best of the 3,400 international students accepted at Cambridge. From these interviews, approximately 100 scholars are chosen to receive the scholarship.
"I'm thrilled to have been awarded this scholarship," said Feuer. "It is a tremendous opportunity indeed! Studying at Cambridge not only gives me the opportunity to explore my scientific interests and cultivate laboratory techniques, but it provides an intellectually rich and stimulating environment in an exciting and fast-paced research setting."
Feuer, who graduates this year, is a molecular biology and biochemistry major and psychology minor, and she was elected to Phi Beta Kappa as a junior. She studied the role of a specific protein in mouse fertility and is preparing her research findings for publication. She has also presented her work at undergraduate research symposia and this past summer at the poster session of the international Gordon Research Conference for Gametogenesis & Embryogenesis.
At Cambridge, Feuer will join Dr. Julie Ahringer's lab at the Gurdon Institute and then plans to return to the United States to pursue a doctorate in developmental biology. Ultimately, she would like to study how environmental chemicals affect human development and disease.
"Sky is an excellent student with considerable promise," said Assistant Professor of Biology Jeremy Ward, who invited her to join his research laboratory after her first year at Middlebury.  "She is a rare and very talented person and will be one of the leaders in her field in a short amount of time.  Study at Cambridge via the Gates Scholarship is an ideal opportunity for her to expand her worldview and bring her considerable academic and intellectual talents to an international stage."
The Gates-Cambridge Scholarship was created in 2000 when the Bill and Melinda Gates Foundation announced a $210 million donation to the University of Cambridge. The international scholarship funds outstanding graduates students from outside the United Kingdom to study at Cambridge.
###