103-year-old philanthropist renews funds for worldwide peace projects for college students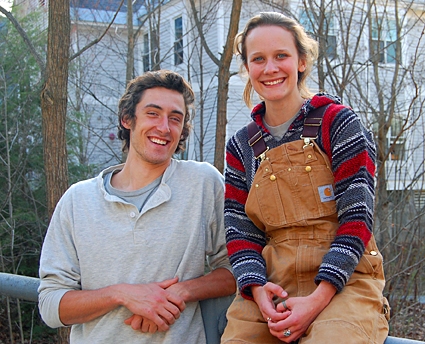 MIDDLEBURY, Vt. ― Clean water in Bangladesh, computers for Jamaican orphans and malaria education in Guyana. These are recent examples of the initiatives that have taken place because of the Davis Projects for Peace initiative, which has been renewed for 2010 by philanthropist Kathryn W. Davis. University students from more than 90 campuses will collectively receive more than $1 million in funding during the summer of 2010 for projects in all regions of the world.
Now 103 years old, Mrs. Davis launched the program on the occasion of her 100th birthday in 2007 and now renews her challenge to today's generation of college students to undertake innovative and meaningful projects. Designed to encourage and support motivated youth to create and implement their ideas for building peace throughout the world in the 21st century, each of the more than 100 projects will receive $10,000 in funding.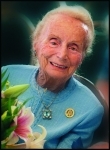 Kathryn Davis in 2008
Davis Projects for Peace invited all students from partner schools in the Davis United World College (UWC) Scholars Program plus students at International Houses Worldwide, Future Generations, and the Graduate Institute in Geneva to submit plans for grassroots projects for peace, to be implemented during the summer of 2010.
"The competition on more than 90 campuses was keen and we congratulate the students who proposed the winning projects," said Executive Director of the Davis UWC Scholars Program Philip O. Geier. "Kathryn Davis was motivated to establish Davis Projects for Peace because she felt a great sense of urgency about an elusive goal: peace in the world. She felt frustrated that older generations had failed in that great quest. Kathryn's vision has motivated young people, and they have drawn inspiration from Kathryn."
Of the 25 proposals submitted by Middlebury College students, two were awarded funding. Middlebury College sophomores Olivia Grugan and Wyatt Orme submitted a project titled "Unveiling Reality – A Library and Oral History Project in Guatemala." In an effort to address the daily violence in Guatemala, Grugan and Orme want to help increase the youngest Guatemalans' understanding of the 36-year civil war that ended in 1996, which the Middlebury students believe is the source of much of the country's lingering instability. To encourage intellectual investigation into the past, Grugan and Orme, both of whom are fluent in Spanish, will create a public library in the city of Quetzaltenango, the country's second largest city, in a school where Grugan worked for a year in 2008.  They will also collect oral histories of the 1996 civil war in three regions of the country, including Quetzaltenango.   
"We don't know how people are going to react to the project and to our role as facilitators, given that we are American students who aren't Guatemalan, and who aren't native," said Orme. However, both are confident in the strong networks they have within Guatemala and enthusiastic to explore different community partnerships.
Dristy Shrestha '11
Davis Projects for Peace will also fund Middlebury junior Dristy Shrestha's project, "Scouts to Promote Peace and Unity in Nepal." The Nepal Scouts is a national organization that engages youth 12 to 16 years old in scouting activities. Her goal is to bring together more than 500 Nepali Scouts of different castes and ethnicities from across her native country in a symbolic multi-day camping event that emphasizes peace and unity. Shrestha, a former Nepal Scout, says that members develop new friendships regardless of their caste or ethnicity.
Shrestha believes such an event is timely given that Nepal is still struggling to establish its constitution following the abolishment of the monarchy in 2008. Tension has arisen as the numerous castes and ethnic groups who speak more than 90 languages and dialects have vied for privileges based on their ethnicity or majority status in a region, says Shrestha, who remembers when her country's diversity was a source of pride rather than conflict. According to Shrestha, a national gathering of Nepal Scouts will allow Nepali youth to develop leadership skills and adopt the event's message of peace that they can share with friends, family and acquaintances when they return home.
"It saddens me to see the present situation of my country, which ideally should have been focusing on development but is being distracted by issues like ethnic tension," said Shrestha.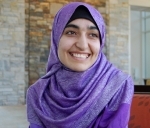 Mahnaz Rezaie '13
After reviewing the submissions, Middlebury College President Ron Liebowitz's office chose to fund an additional project, "Hand well-pumps for Karte Amin 2nd, Herat, Afghanistan." Middlebury first-year student Mahnaz Rezaie, who is from Herat, a western province of Afghanistan that borders Iran, will lead the effort to build five hand well-pumps in a community of about 1,800 that currently relies on open wells that are shallow and often dry during the summer. The current wells also serve as sources of disease when dust and animal feces contaminate them. While the wells are being constructed, Rezaie will distribute bottles of chlorine to the roughly 300 families in the community and educate them about its use as a disinfectant for water and vegetables.
President Liebowitz's office has funded projects in previous years as well, including "Development of a Model Micro Hydropower Project in Nepal," which was submitted by Shrestha in 2009.
"I want to use my birthday to once again help young people launch some initiatives that will bring new energy and ideas to the prospects of peace in the world," said Kathryn Davis. "My many years have taught me that there will always be conflict. It's part of human nature. But love, kindness, and support are also part of human nature, and my challenge to these young people is to bring about a mindset of preparing for peace instead of preparing for war."
A complete list of the participating schools and projects, as well as a summary of the 2009 projects and a video interview with Davis from 2006, is available on the program's Web site at www.davisprojectsforpeace.orgwww.davisprojectsforpeace.org.