Senior Carolyn Sparkes wins Kunin Award for her work on homelessness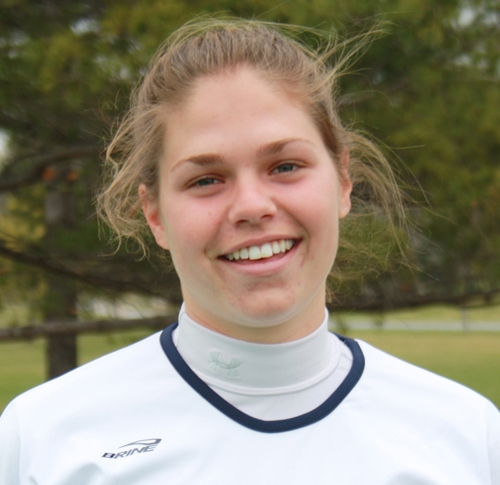 MIDDLEBURY, Vt.-Carolyn "Carrie" Sparkes '10, who volunteered for four years at Addison County's only year-round homeless shelter, has received Vermont's highest honor for a college student engaged in public service.
The Middlebury senior received the Madeleine M. Kunin Public Service Award from the Vermont Campus Compact (VCC). The award honors the former governor of Vermont and former U.S. ambassador to Switzerland, and is given by a consortium of Vermont colleges and universities committed to the civic purposes of higher education.
The award recognizes Sparkes for "her commitment to make connections [between] the homeless in Addison County and Middlebury College, particularly its students as she aims to break down unseen barriers between people of different backgrounds, and bring students into situations that challenge their basic assumptions of homelessness, need, and entitlement."
The VCC also saluted the Wayne, Pa., resident for her "effective community building," her "broad range of civic leadership skills," and for being "a statewide exemplar for deeply ingrained student civic responsibility and leadership."
Sparkes serves at the John Graham Emergency Shelter in Vergennes and encourages other Middlebury students to volunteer there too. A member of the women's lacrosse team, Sparkes also has been a pivotal figure in the operation of, and student involvement with, the Community at Charter House, a new temporary shelter in Middlebury.
Other Middlebury winners and finalists for VCC awards this year include:
Mikaela Lefrak '10 was the recipient of the 2010 Commitment to Service and Engagement Award for both the breadth and depth of her community involvement. Lefrak has served as a first-year experience coordinator for the Alliance for Civic Engagement, a Middlebury Alternative Break leader, a MiddView community service trip leader, a student coordinator for United Way Days of Caring, and as a dedicated and loyal companion to an elderly resident of Leicester. Internationally, she has volunteered in Ethiopia, Kenya, Tanzania, Bolivia and El Salvador.
Douglas Sinclair and the organization he co-founded, Middlebury Community Care Coalition (MCCC), received the 2010 Engaged Community Partner Award. The MCCC in 2008 opened the Community at Charter House in response to the housing and food needs of Middlebury area residents. To date, as many as 56 Middlebury College students have been directly involved as volunteers at the Charter House, which is staffed seven days a week, 24 hours a day, during the coldest months of the year.
Margaret "Peggy" Burns, the associate director of the Alliance for Civic Engagement at Middlebury College, was a finalist for the 2010 Campus Leadership for Civic Engagement Award for her work toward the institutionalization of service, her belief in a shared vision of higher education for the public good, and for her support of students, faculty, and community partnerships.
Penny Campbell, lecturer in dance, was a finalist for the VCC's Engaged Scholar Award in recognition of how her academic life embodies community engagement and public problem solving. Matthew Kimble, assistant professor of psychology, was a finalist for the Excellence in Community-Based Teaching Award for his innovative teaching and curriculum that employs service learning and community-based research.
The Vermont Campus Compact promotes the integration of public service into the academics, student life and civic goals of its member institutions through training, networking, grants, and other resources. The VCC is affiliated with the national Campus Compact and its 32 state affiliates, all working together to achieve the public good of higher education.