Class of 2010 urged to shed comforts, take risks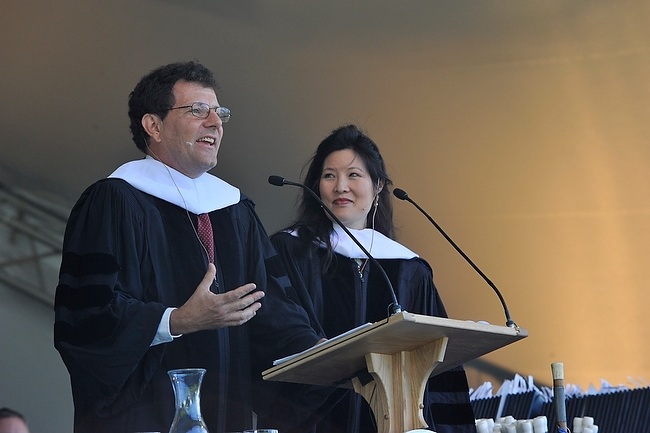 By Robert Keren, Photos by Brett Simison
MIDDLEBURY, Vt. - The 570 graduates of the Middlebury College Class of 2010 basked under the blue skies of a glorious Vermont morning and heard Pulitzer Prize winners Nicholas D. Kristof and Sheryl WuDunn advise them to reach beyond their comfort zones in life.
"We've got nothing against saving the world in one fell swoop," Kristof, the New York Times columnist, said. "But we think it's important not to disparage or discount the idea of changing the world one brick at a time."
"We may not be able to solve the problems of global poverty, illiteracy, or human trafficking alone, but we can help individuals and that's a legitimate way of changing the world," author WuDunn insisted.
It's also a way of transforming yourself, she declared. "There's been a great deal of research over the last 20 years into what makes us happy, and, after you have fulfilled all your material needs, one of the few ways to elevate your level of happiness is to contribute to a cause larger than yourself. Another way of putting it is this: our efforts to give back by helping others frankly have a mixed record of success, but they have an almost perfect record of helping ourselves."
"The truth is that all of us here have won the lottery of life," Kristof added. "The fact that you are graduating from a great college in America means that you have won the global jackpot. And, when you do, then the question becomes, how do you go about discharging the responsibility that comes with that? What will you give back and how?"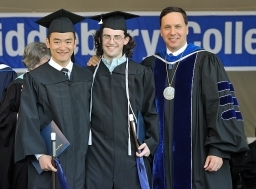 President Ron Liebowitz with class valedictorian Shengen Zhai (left) from Shanghai, China and Zachary Xavier Giustra from Middleton, Mass.
Nicholas Kristof and Sheryl WuDunn, husband and wife, received Honorary Doctor of Letters degrees in recognition of their lifelong advocacy for human rights and combined news coverage of China's Tiananmen Square democracy movement. Together they co-authored the books "China Wakes: The Struggle for the Soul of a Rising Power" and "Thunder from the East: Portrait of a Rising Asia." WuDunn is renowned for raising awareness about the struggles facing women across the globe, while Kristof, who has traveled to more than 150 countries, has been a powerful voice for exposing genocide in Darfur and raising issues about global poverty, health, and discrimination.
Other recipients of honorary degrees were: Errol Morris, Doctor of Fine Arts, for documentary filmmaking; Mark Weld Odom '87, a colonel in the U.S. Army, Doctor of Laws, for leadership and brilliant military tactics; Joseph Polisi, Doctor of Arts, for leadership and vision as president of The Julliard School since 1984; Beth Robinson, the Middlebury attorney, Doctor of Laws, for championing the cause of same-sex marriage in Vermont; and Jill Seaman '74, Doctor of Science, for a lifetime of bringing health care to people in impoverished lands.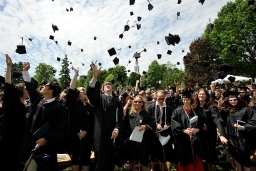 Class of 2010 members celebrate their graduation with caps in the air.
The graduates processed into Commencement led by student marshals Brittany Anne Coleman and Jamie Studwell, and faculty marshals Erik Bleich (political science), Kateri Carmola (political science), Noah Graham (physics), and Thomas Van Order (Italian). A crowd of about 3,000 friends and family members stretched across the sun-drenched quadrangle from the Frisbee dog statue in front of Munroe Hall to the sidewalk by Old Chapel in a vast semicircle going up the hill toward Gifford Hall.
A member of the senior class, Peter Gregory Baumann, a political science major from Denver, Col., delivered the student address amid cheers and laughter from his classmates. Baumann disputed the notion that there is one "typical Middlebury student" and said:
"We're not partiers or library nerds, jocks or hipsters. But we are bound by a common trait: we're a community with very disparate interests, comfortable in and eager to learn from one another's company. And there is something else that ties us together:  Middlebury students get that college is a transformational experience - an opportunity to grow. It is not, as many other institutions insist, a means to an end. At Middlebury we understand that it can, and should be, a rare end unto itself."
Baumann added that 10 years from now he probably won't remember the grades, the tests, or the outcome of athletic contests from his four years at Middlebury. "But I am going to remember the experience: the times we worked, laughed, debated, played, stressed, and smiled, and the beauty of Middlebury is that each and every one of those moments was an integral part of our education too."
In keeping with Middlebury tradition, the first two graduates to receive their diplomas from President Ronald D. Liebowitz were the valedictorian Shengen Zhai from Shanghai, China, who majored in mathematics and economics, and the salutatorian Zachary Xavier Giustra from Middleton, Mass., who majored in chemistry and biochemistry. They, along with their classmates, also received a replica of Gamaliel Painter's cane, an enduring symbol of Middlebury College, from the vice president of the alumni association, Zachary Adam Bourque '01, as they crossed the platform one at a time in the late morning sunshine.
###