Students land impressive list of fellowships, academic awards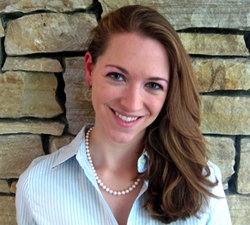 MIDDLEBURY, Vt. - Several Middlebury students have recently learned that they are the recipients of prestigious academic awards and fellowships. For sophomores and juniors, these awards will help support the students' academic and research interests at Middlebury. Several graduating seniors have received post-graduate fellowships for graduate study and research projects. The college also recently announced that seven Middlebury graduates have just received National Science Foundation research fellowships and one has received a 2010 National Defense Science and Engineering Graduate Fellowship.
Following is a brief overview of these fellowships and awards:
Postgraduate Awards
Mary MacPherson Lane '10: After interning with The Associated Press in Germany last year, Lane will continue her work with a Fulbright Beginning Professional Journalism Award in Germany for 2010-2011. Lane is a German major at Middlebury with a Chinese minor; she has also interned in China as an interpreter, and her Fulbright year will incorporate these two interests: she will explore the depiction and coverage in German print and online media of Chinese culture, society and cultural events in Germany. During her Fulbright year, she will intern with both the Wall Street Journal and The Associated Press.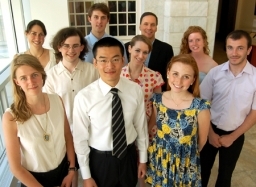 Students were recognized for honors and awards at a reception on May 20. Front row (L-R): Angela Evancie, Compton Mentor Fellowship, Shengen Zhai, valedictorian, Molly Dwyer, co-chair of Community Council. Middle: Zachary Giustra, salutatorian, Mary Lane, Fulbright award, Nemanja Tepavcevic, Weidenfeld Scholar. Back: Sky Feuer, Gates Cambridge Fellowship, Dan Rosmarin, Keasbey Memorial Foundation Scholarship, President Ron Liebowitz, Kristina Brown, St. Andrews Society Scholarship.
Kristina Brown '10, St. Andrews Society Scholarship - This award supports a year of study at St. Andrews University in Scotland. Brown is a literary studies major and geography minor. She plans to pursue a master's degree in Cultural Identity Studies. Brown says she hopes that understanding how cultural identities are formed and sustained, and their positive and negative repercussions in a world more and more dominated by identity politics will give her a greater basis for pursuing work in an NGO or other organization that facilitates cross cultural communication.
Daniel Rosmarin '10, Keasbey Memorial Foundation - This award will support two years of master's study in clinical pharmacology at Oxford University, where Rosmarin, a molecular biology and biochemistry major at Middlebury, will investigate how genomics and other biological markers can be used to predict patient response to cancer therapies. "I hope to make an impact in the field and to understand the science well enough to help bring these innovations to patients as a business leader," said Rosmarin.
Angela Evancie '10 won a Compton Mentor Fellowship for 2010-2011, in which she will use Web-based, multimedia narrative journalism to bring new voices to the conversation on environmentalism. A double major in English and geography, Evancie is also an accomplished photographer. She has served as photo editor of the college's student newspaper since her sophomore year, has exhibited her portraits of Middlebury's dining staff at 51 Main, and contributed her work to the national Step It Up campaign, a major youth climate change movement.
Kevin Madore '11, Beinecke Scholarship — This scholarship provides funding for Madore's pursuit of a doctorate in psychology. Madore, a history and psychology major, plans to continue the research he has been conducting with Middlebury Professor of Psychology Michelle McCauley on use of cognitive interview techniques in pediatric settings after he graduates from Middlebury in 2011. Established in 1971, the Beinecke Scholarship provides "…substantial scholarships for the graduate education of young men and women of exceptional promise." Madore has also won a significant research award from the University of Vermont.
Charles Cavness '10, Thomas J. Watson Fellowship - This fellowship enables students of unusual promise to pursue independent study on a topic of personal and cultural significance through one year of study and travel abroad following graduation.
Nemanja Tepavcevic, '10, Weidenfeld Scholarship and Leadership Programme - This award covers graduate studies at the University of Oxford and participation in a comprehensive program of leadership development, long-term mentoring and networking. The program aims to cultivate leaders of tomorrow from transitional and emerging economies, including Eastern Europe, Central Asia, Russia, the Middle East, and North Africa. Weidenfeld Scholars are selected for their intellectual distinction and exceptional leadership potential.
Sky Feuer '10, Gates-Cambridge Scholar - This scholarship will fund Feuer for a one-year master of philosophy degree in genetics at Cambridge University. Feuer is the first Middlebury undergraduate to receive a Gates-Cambridge award. "Studying at Cambridge not only gives me the opportunity to explore my scientific interests and cultivate laboratory techniques," says Feuer, "but it provides an intellectually rich and stimulating environment in an exciting and fast-paced research setting."
National Awards for Sophomores and Juniors
Abraham Katz '11, U.S. Department of State Critical Language Scholarship - Katz won this highly competitive scholarship to study Arabic during the summer of 2010. Approximately 575 students (out of 5,300 applicants) will spend seven to 10 weeks at intensive language institutes this summer in 15 different countries where the critical languages are spoken. "I'm interested in two broad domains - language learning and international relations - that can be interpreted into any number of careers," said Katz. "The Critical Language Scholarship will hopefully equip me with skills in these domains, from knowledge of the Arabic language itself, to methods in language education and acquisition."
Amy Prescott '12, EPA Greater Research Opportunities Fellowship - This prestigious award from the Environmental Protection Agency is only awarded to approximately 30 students nationwide each year. Prescott is an environmental studies major with a concentration in chemistry. Her award will support tuition and expenses at Middlebury for two years, as well as providing stipends for research at an EPA facility.
David Fouhey '11, Goldwater Scholarship - These highly competitive scholarships from the Barry M. Goldwater Scholarship and Excellence in Education Foundation are aimed at ensuring a continued stream of highly qualified scientists, mathematicians and engineers. This summer Fouhey will have a research position at Carnegie Mellon's Robotics Institute, working on computer vision for obstacle detection. "A Goldwater scholarship will be an asset for me in my upcoming search for a Ph.D. program, in finding funding for my studies through other fellowships and scholarships, and in securing new opportunities to work on exciting research projects," said Fouhey. "Being selected for such an award by people who know me only as my record as a researcher serves as tremendous encouragement to me with respect to my future career goals."
Benjamin Wessel '11, Udall Scholarship - This scholarship goes to students who are "…committed to careers related to the environment, tribal public policy, or Native American health care." Wessel has taken a leadership role in building youth political power in the battle against climate change. He has worked locally in Vermont, with the U.S. Congress, and with the United Nations Framework Convention on Climate Change.
—end—