Two Middlebury faculty members promoted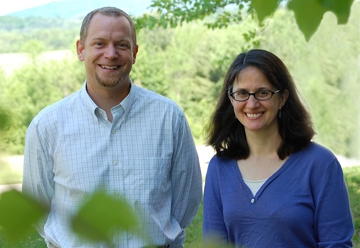 MIDDLEBURY, Vt.—Two members of the Middlebury College faculty —Elizabeth Morrison of the religion department and Jeremy Ward of the biology department—have been promoted from assistant professor to the rank of associate professor without limit of tenure.
The board of trustees, at its meeting in May, accepted the recommendations of President Ronald D. Liebowitz and the board's educational affairs committee in promoting the two faculty members. Their promotions take effect July 1, 2010.
Elizabeth Morrison received her B.A. in religion from Amherst College, and her M.A. and Ph.D. in religious studies from Stanford University. A member of the Middlebury faculty since 2003, her book "The Power of Patriarchs: Qisong and Lineage in Chinese Buddhism" was released this year by Brill, a scholarly publishing house based in Leiden, The Netherlands.
Morrison, who studied at the Japanese School in the summer of 1997, has taught classes at Middlebury in Asian religious classics, food and eating in Asian religions, Chinese religions, Japanese religions, and the notion of self in East Asian religions. She enjoys "finding ways to give my students the skills they need to be analytic about religion and to understand religion as an historical phenomenon."
Jeremy Ward received his B.A. and Ph.D. in cell biology and genetics from Cornell University, and was a postdoctoral fellow in mammalian genetics at the Jackson Laboratory in Bar Harbor, Maine, for three years. Among the courses he has developed at Middlebury is a new first-year seminar called "The Malleable Human," in which students explore genetic, mechanical, and chemical modifications to the human form, and consider how such changes influence the perception of "humanness."
A member of the faculty since 2003, Ward currently has a five-year National Science Foundation grant called "Toward the Genetics of Meiosis: Integration of Meiotic Molecular Biology and Public School Science Outreach." Under the grant he conducts research with undergraduates on mice genomes and works to enhance science curricula for public school students in Addison County.
Earlier in the 2009-2010 academic year, two other members of the faculty—Kateri Carmola (political science) and Michael Sheridan (sociology/anthropology)—were promoted by the board of trustees to the rank of associate professor without limit of tenure, effective July 1.