NPR President Vivian Schiller to deliver Language Schools commencement address Aug. 13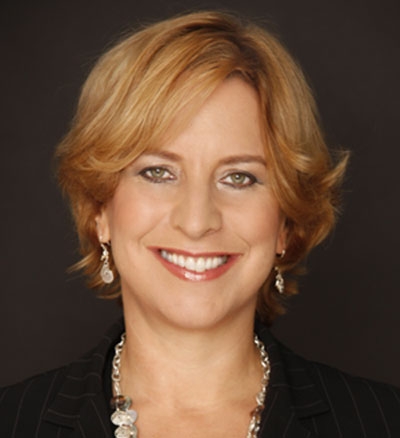 MIDDLEBURY, Vt. — National Public Radio (NPR) President Vivian Schiller will deliver the Middlebury Language Schools commencement address in Mead Chapel on Friday, Aug. 13, at 8 p.m. She will receive an honorary Doctor of Letters degree in recognition of her achievements as a journalist, documentarian and business leader. Schiller is an alumna of the Middlebury Russian School, where she earned a master's in Russian in 1985. The ceremony will be preceded by a carillon performance by George Matthew Jr. Middlebury College Organist Emory Fanning will accompany the commencement procession and recession on the Mead Chapel organ.
Middlebury College President Ronald D. Liebowitz and Vice President of the Language Schools, Schools Abroad and Graduate Programs Michael Geisler will award degrees to about 150 Master of Arts candidates in Chinese, French, German, Italian, Russian and Spanish. Several candidates are expected to receive doctorates in modern languages. Awards for distinguished study will also be given to select students in the schools of Hebrew, Japanese and Portuguese.
A media executive and journalist with 25 years experience in the industry, Schiller joined NPR as president in January 2009. Schiller heads NPR's worldwide media operations, including its partnerships with more than 900 public radio stations, and their service to nearly 30 million listeners. Under her leadership, NPR has embraced digital and mobile technologies to extend the reach of public media. In 2009 and 2010, Fast Company magazine named NPR one of the World's Top 50 Most Innovative Companies in Media, and cited it as an Innovation All-Star for 2010.
Prior to joining NPR, Schiller was senior vice president at The New York Times Company and general manager of NYTimes.com, the largest newspaper Web site on the Internet. Before that, she served as senior vice president and general manager of the Discovery Times Channel and senior vice president of CNN Productions, where she oversaw the production of documentaries and other long-form programming. Schiller began her career as a Russian interpreter in the former Soviet Union, an experience that led to her work on documentaries for CNN.
As an undergraduate at Cornell, Schiller took an introductory course in Russian from Kevin Moss, a graduate teaching assistant on his way to earning his doctorate and, subsequently, coming to Middlebury, where he now chairs the college's Russian department. Schiller found the course so interesting that she decided to major in Russian and Soviet studies. "Kevin was an inspiration; he changed my life, introducing me to this incredible love for all things Russian," Schiller told Middlebury Magazine in 2009.
Middlebury College Language Schools
Since 1915, more than 40,000 students from all walks of life — including more than 11,000 advanced degree holders — have attended one or more of the Language Schools. Corporate executives study side-by-side with writers, journalists, doctors, lawyers, missionaries, government officials and diplomats. Undergraduates and graduate students from Middlebury College and other institutions also attend the summer sessions to fulfill language requirements or complete degrees.
The Middlebury Language Schools' second site, Mills College in Oakland, Calif., serves as home base for the entire Arabic School and offers additional sessions in French and Spanish.
For the fourth year, philanthropist Kathryn Wasserman Davis has funded the 100 Fellowships for Peace: Investing in the Study of Critical Languages, which grants 100 scholarships to cover tuition, room, board and a small stipend for a summer of study in any of six critical languages and related global issues during the summer of 2010. The initiative is intended to challenge Middlebury College and its graduate school, the Monterey Institute of International Studies, to use the institutions' combined expertise in language acquisition and policy studies to recruit and train future potential peacemakers.
Under the guidance of about 280 faculty members at both locations from colleges and universities throughout the world, students of all ages and nationalities live on campus, totally immersed in their target language. Students live, learn and interact in the language they have come to study, and all agree to abide by the Language Pledge, a formal commitment to speak the language of study and no other for the entire summer session.
For more information about the Middlebury Language Schools, contact Director of Institutional Collaboration and Marketing Jamie Northrup at 802-443-5856 or jnorthru@middlebury.edu.