College and town celebrate opening of Cross Street Bridge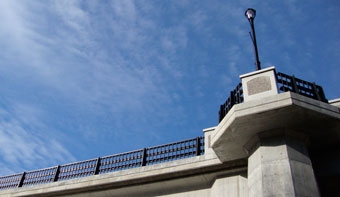 Dear Faculty, Staff, and Students,
This weekend, the town and the College celebrate the opening of the new Cross Street Bridge. The celebration marks years of hard work on this project by the town, with the support of the College. The festivities begin Friday, October 29, at dusk with the lighting of the bridge and continue through much of Saturday, October 30.
Saturday's schedule includes musical and dance performances on a bandstand on the bridge, with the actual opening ceremony at 4 p.m., followed by brief speeches around 4:15, and more performances and a fireworks display that evening. (See the full schedule of events, below.)
The long-awaited construction of a second Otter Creek bridge is a significant milestone for the town and the College. I hope you will join us in celebrating this achievement.
— President Ron Liebowitz
---

Cross Street Bridge Celebration
Schedule of Events
Friday, October 29
Dusk-10 p.m. Illumination of the bridge. A kaleidoscope of colors and searchlights kick off the celebration
Saturday, October 30
10 a.m. FUN RUN. Kids run from the Town Green to the new bridge. When they reach the bridge, they receive commemorative hats
Noon-4 p.m. Classic cars parked and displayed on Park Street, courtesy of the Snake Mountain Cruisers
On the bridge from noon to 4 p.m.:
— WVTK live remote
— USPS historic postmark
— Otter Creek Bakery special Bridge Cake display
Performing on the Bridge Bandstand:
Noon The Hibernators (Celtic, swing, bluegrass)
1 p.m. The Middlebury College Community Chorus
1:30 p.m. The Mischords (Middlebury College a cappella group)
2 p.m. Snake Mountain Bluegrass
3 p.m. Va-et-Vient  (Franco-American trio and young dancers)
3:30 p.m. Riddim (Middlebury College hip hop dance group)
2-4 p.m. Spooktacular on the Town Green
4 p.m.  "FIRST ACROSS:"  The Official Opening Ceremony
—Master of ceremonies:Douglas Anderson
— Parade of kids in Spooktacular costumes, historic vehicles, dignitaries
— National anthem sung by the Maiden Vermont chorus, with the color guard from American Legion Post #27
— Speeches
4-8 p.m. Food tent opens. Middlebury restaurants feature local food, ales and wine
4:30-6:30 p.m. STREET DANCE ON THE BRIDGE
Featuring Jer Coons and The Grift and a special salute to the music of Michael Jackson
6:30 Fireworks. Best places to watch fireworks: Cross Street Bridge, parking lot behind library, Battell Bridge, or just about anyplace downtown