Author and environmentalist Bill McKibben appointed Schumann Distinguished Scholar at Middlebury College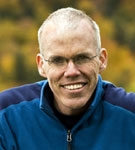 MIDDLEBURY, Vt. — Middlebury College President Ron Liebowitz announced today that author and environmentalist Bill McKibben has been appointed to the position of Schumann Distinguished Scholar at Middlebury College. McKibben joined the college in 2001 and was previously scholar in residence in environmental studies.
"I am very pleased to announce a new appointment that will deepen and solidify a relationship that has been of great value to the Middlebury College community," said Liebowitz. "This appointment recognizes Bill McKibben's tremendous professional and scholarly contributions to public discourse on climate change and global environmental issues. Few writers have had so great an impact on public perception of a critical issue in contemporary society."
McKibben's book "The End of Nature" (1989), which had first appeared in serialized form in The New Yorker, is widely acknowledged as a groundbreaking overview of climate change. His subsequent books, including "Deep Economy: The Wealth of Communities and the Durable Future" (2007), and his recent book "Eaarth: Making a Life on a Tough New Planet" (2010), have offered a continually updated series of reflections on pressing environmental issues.
A former staff writer for The New Yorker magazine, McKibben writes regularly for numerous publications, including the Atlantic Monthly, Harpers, The New York Review of Books, The New York Times and Outside Magazine.
McKibben is also the creator of the grassroots Step It Up campaign, and co-founder of the organization 350.org. According to Liebowitz, Middlebury students and faculty have had the opportunity to play important roles in both of these efforts.
At Middlebury, McKibben gives talks, advises students, and works with faculty colleagues in the environmental studies program. This spring he is teaching a course, "Social Movements, Theory and Practice." His oversight of the Fellowships in Environmental Journalism program, based at Middlebury, has brought other well-known and aspiring environmental writers to campus.
"Bill has been a generous resource for the college community since he arrived on campus," said Liebowitz. "I am delighted that Middlebury College will continue to benefit from Bill's engagement with our students, his collaboration with our faculty, and the added visibility a public intellectual of his stature brings to our program in environmental studies and to the college. I know I speak for many in saying we look forward to working with Bill McKibben for many years to come."
A grant from the Schumann Center for Media and Democracy enabled the college to establish the position.
Update: On Dec. 6, McKibben will receive the annual $100,000 Puffin/Nation Prize for Creative Citizenship at The Nation Institute Annual Dinner Gala in New York City. More information about the award is available from the Nation Institute.