The governor becomes a teacher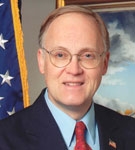 MIDDLEBURY, Vt. — Middlebury College President Ron Liebowitz announced today that Vermont Governor Jim Douglas, a 1972 graduate of Middlebury, will be an executive in residence at the college. Douglas will begin his appointment in January when he teaches a course, "Vermont Government and Politics," during Middlebury's winter term. He will also serve as a mentor and adviser to students interested in politics and Vermont affairs. Douglas, whose term as governor will end Jan. 6, also plans to spend time writing about his more than 35 years in Vermont politics, including the last eight as governor.
"We are most fortunate to have Jim, an alumnus and resident of Middlebury, join our college community," said Ron Liebowitz. "Jim will be a wonderful resource for students with the vast experience and knowledge that he has gained from holding a variety of positions in state government."
"Middlebury College is a place I know well and I am excited about being a part of the campus community," said Douglas. "I look forward to working with the students and faculty."
Douglas was elected to the Vermont House of Representatives after graduating from Middlebury in 1972. He became assistant majority leader in his second term and majority leader in his third term, at the age of 25. Douglas left the Legislature in 1979 to become a top aide to Governor Richard Snelling.
He was elected secretary of state in 1980, a post he held for 12 years. He was then elected state treasurer in 1994. During that time, Vermont's bond rating became the best in New England and one of the best in the nation. Douglas has served as governor since 2003.
Douglas is the former president of the Council of State Governments and is the immediate past chairman of the National Governors Association. In February 2010 President Obama appointed him co-chair of the Council of Governors.
An active community member, Douglas has served on the boards of numerous organizations such as the Vermont Symphony Orchestra and the United Ways of both Addison County and Vermont. He is also the town moderator of Middlebury, a post he has held for more than 20 years.