Emily Bartels is new director of Bread Loaf School of English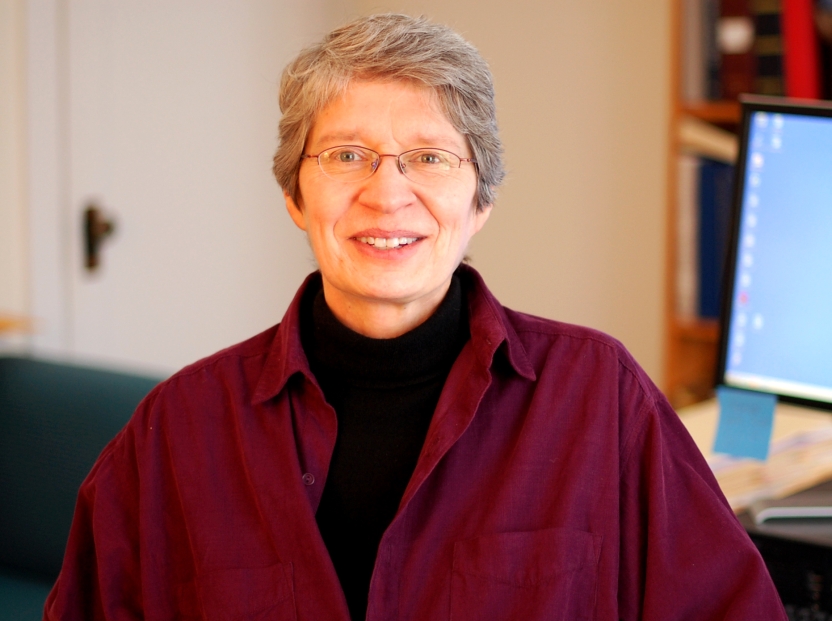 MIDDLEBURY, Vt. — Rutgers University Professor of English Emily Bartels has been named the new director of the Middlebury College Bread Loaf School of English. She was a faculty member at the School of English from 1995-2000 and has served as the associate director since 2001. A scholar of early modern literature and culture, Bartels began her new job on Jan. 1. She succeeds Jim Maddox, who has retired after serving as Bread Loaf's director for more than 20 years.
"Emily Bartels is already a welcome and familiar face to Bread Loaf School of English faculty and students," said Michael Geisler, vice president for Language Schools, Schools Abroad and graduate programs at Middlebury. "She is in an ideal position to continue the strong traditions established under Jim Maddox's leadership while also bringing to the job new ideas for broadening the Bread Loaf curriculum and further enhancing the diversity of the Bread Loaf faculty and students."
"I want to build on the strengths that already distinguish the Bread Loaf School of English," said Bartels, "to increase the diversity of our program, pedagogically, intellectually and culturally, and to mine in new ways the explosive combination, unique to Bread Loaf's curriculum, of literary study with study of writing, teaching and the arts."
According to Bartels, what has kept her coming back to Bread Loaf every summer are the same things that make her excited about her new job as director. "What I love about Bread Loaf is the learning community — faculty, staff, and students who believe, as I do, in the power of reading, writing, performing and teaching to change the world," said Bartels. "The majority of our students are primary and secondary school teachers, and Bread Loaf gives us all a space to make innovative connections between K-12 and higher education. Students take what they learn at Bread Loaf back to their own classrooms, and they and their students in turn teach us, faculty and staff."
"When you leave Bread Loaf at the end of the summer, you are part of a multidimensional learning community that is there all year round if you want it. This kind of connection doesn't come with continuing education courses that a teacher might take here and there, and it doesn't always come within a college or university," said Bartels.
As a Bread Loaf faculty member, Bartels, who has particular expertise in early modern drama, taught courses such as "Shakespeare, Comedy and Desire" and "Shakespeare, Tragedy and the New Dramatic Self." In 1999, she held the Frank and Eleanor Griffiths Chaired Professorship. According to Bread Loaf tradition, the students select their graduation speaker; they chose Bartels in 2001.
At Rutgers, Bartels is the acting director of Undergraduate Studies in English. Her scholarly interests include questions of race, cross-cultural relations, gender, genre and performance as they relate to early modern literature and culture.
Bartels is author of "Speaking of the Moor: From Alcazar to Othello" (2008) and "Spectacles of Strangeness: Imperialism, Alienation, and Marlowe" (1993), which won the 1993-1994 Roma Gill Prize for Best Work on Christopher Marlowe.  She also edited "Critical Essays on Christopher Marlowe" (1997).
In 1993, Bartels received both the Board of Trustees Fellowship for Scholarly Excellence, and the Faculty of Arts and Sciences Award for Distinguished Contributors to Undergraduate Education from Rutgers University. In 2009, she was also the recipient of Rutgers' School of Arts and Sciences Award for Distinguished Contributions to Undergraduate Education and the Warren I. Susman Award for Excellence in Teaching.
Bartels earned her undergraduate degree in English at Yale, and master's and doctoral degrees in English at Harvard. 
Middlebury College Bread Loaf School of English
The Bread Loaf School of English grants more master's degrees in English than any other program in the United States. Founded in 1920, the School of English offers an unusually diverse array of graduate courses in literature, the teaching of writing, creative writing and theater arts to students from across the U.S and beyond. For six weeks in the summer Bread Loaf students, most of them secondary-school teachers, work toward a Master of Arts or Master of Letters degree or take courses in continuing graduate education.
The students study with a world-class faculty at one of four sites: Santa Fe, New Mexico; Asheville, North Carolina; Oxford (England); and the home campus located outside Middlebury at the foot of Bread Loaf Mountain in Ripton, Vermont.  Students typically take two courses per summer and complete the degree in five summers.
The aim of the Bread Loaf program is to produce innovative teachers and thinkers who, through the interpretation of literary and critical texts, are able to engage in complex thought, write persuasive and original essays, and, as relevant, use new technologies to develop effective teaching and learning practices.