Middlebury and Brandeis establish program in Israel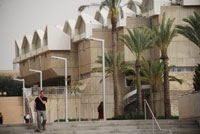 Program to be located in Beer Sheva, Israel
MIDDLEBURY, Vt. ― Middlebury College and Brandeis University have established the Brandeis University/Middlebury Program in Israel ― the only study abroad program in Israel designed from beginning to end to be experienced exclusively in Hebrew. Located in the city of Beer Sheva and affiliated with Ben-Gurion University of the Negev, the program will begin offering classes in the spring of 2012.
The program is Middlebury's first in Israel and its third in the Middle East ― the first opened in 2007 in Alexandria, Egypt, and the second will open in Amman, Jordan, in the fall of 2011.
The curriculum is designed for high intermediate and advanced Hebrew language students, and all coursework will be conducted in Hebrew. Qualified students will also be able to enroll directly in courses at Ben-Gurion alongside local students. Students will be housed with Israeli students in residence halls and will adhere to the Middlebury College Language Pledge ― a promise to speak no language other than the one they are studying. Anticipated initial enrollment is about 10-15 students per semester.
Beer Sheva is in the Negev, the desert in southern Israel. One of the world's oldest cities, it has been inhabited for some 6,000 years. Located in an area rich with biblical and archeological history, the city is now a modern regional capital with a population of about 185,000, including a large number of Russian and Ethiopian Jews who arrived in the 1990s.
"Middlebury has a robust and comprehensive Middle East studies program, and adding a site in Israel is a natural next step," said Middlebury College Dean of International Programs Jeff Cason. "Since Middlebury offers both Arabic and Hebrew, it makes sense to have immersive study abroad programs in both languages."
According to Middlebury College Vice President for Language Schools, Schools Abroad and Graduate Programs Michael Geisler, Ben-Gurion is an ideal partner with which to begin such a program in Israel.
"Ben-Gurion University of the Negev, which is seen by many as having one of the strongest and most diversified academic programs in Israel, is an excellent location," said Geisler. "Since the university is well integrated with the town of Beer Sheva, students will find it easier than in many other cities in Israel to gain access to the community. It also offers better opportunities for language immersion since there are fewer English speakers there than in some other Israeli cities such as Tel Aviv."
"Brandeis University is pleased to continue our collaboration with Middlebury College," said Brandeis University Assistant Dean of Academic Services and Director of Study Abroad J. Scott Van Der Meid. "This new program offers an outstanding combination. Brandeis University brings its historic connections to Israel, emphasis on experiential learning, and its innovative leadership in Hebrew language instruction. Middlebury boasts a century of experience in language immersion programs."
The C.V. Starr Middlebury Schools Abroad have more than 50 years of experience in providing academically challenging immersion programs, and with the addition of the site in Israel, will operate programs in 36 cities and 15 countries. Students come from a wide range of academic fields and take courses in most disciplines, often alongside host-country students; intern or engage in volunteer work; and live with a family or local residents. At every juncture, students are encouraged to immerse themselves in the host culture.
For more detailed information, visit http://www.middlebury.edu/sa/ or contact Middlebury College International Programs at internationalprograms@middlebury.edu or 802-443-5745.