Middlebury approves 2.5 percent increase in comprehensive fee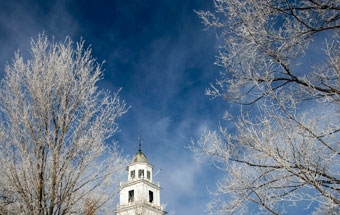 MIDDLEBURY, Vt. — Middlebury College has set its comprehensive fee for the 2011-2012 academic year at $53,420, a 2.5 percent increase from the current year's figure of $52,120. Middlebury's comprehensive fee includes tuition, room and board. Adding in a mandatory student activities fee, unchanged this year at $380, brings the total to $53,800, versus $52,500 for the current year. Those numbers do not include books, personal expenses or travel to and from the college.
The fee increase was approved by the board of trustees at its meeting on Feb. 19. As a percentage, the increase is the smallest at Middlebury since at least 1970, and is in keeping with a college pledge to limit comprehensive fee increases to no more than 1 percentage point above the Consumer Price Index.
In February 2010, Middlebury adopted a policy that limits increases in the comprehensive fee to no more than 1 percentage point (100 basis points) above the annual increase in the Consumer Price Index, as determined at the end of the previous calendar year. President Ronald D. Liebowitz, citing the need to control the cost of a liberal arts education, proposed the "CPI + 1" initiative, and the strategy was endorsed by the board of trustees. The CPI rose 1.5 percent in 2010, according to government figures, which meant Middlebury's fee increase for 2011-12 would be no more than 2.5 percent.
"In restricting our fee increases relative to the CPI, we are recognizing that the price to attend Middlebury and other top schools has grown far faster than inflation, and such increases cannot continue without a negative impact on the institution," President Liebowitz said. "The demand for a Middlebury education is stronger than ever—we received a record number of applications this past year, more than 8,500—but one has to wonder how much families will be willing to pay for a four-year education, and how many excellent would-be applicants have already decided, or will soon decide, not to apply due to the escalating price."
The CPI+1 policy does constrain Middlebury's resources, but the president said, "I believe that by limiting our fee increases we force ourselves to make more thoughtful and consequential decisions regarding the resources available to us." For more information on the "CPI+1" initiative, see the president's address to the campus on February 12, 2010, and the "CPI+1" post at the president's blog, "Ron on Middlebury."