New program in Jordan will open this fall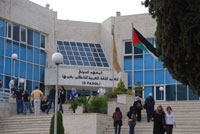 Second Middlebury program in Middle East to be located in Amman, Jordan
MIDDLEBURY, Vt. ― Middlebury College has established a new program in Jordan, the newest site for the C.V. Starr-Middlebury School Abroad in the Middle East. Located in the city of Amman and affiliated with the University of Jordan, the program will begin offering classes in the fall of 2011.
The program is Middlebury's second in the Middle East ― the first opened in 2007 in Alexandria, Egypt.
The curriculum is designed for high intermediate and advanced Arabic language students, and all coursework will be conducted in Arabic. Qualified students will also be able to enroll directly in courses at the University of Jordan alongside local students. Students will adhere to the Middlebury College Language Pledge ― a promise to speak no language other than the one they are studying. Anticipated enrollment is 10-15 students per semester.
Founded in about 7,000 B.C., Amman is the capital and largest city in Jordan. It is situated in a hilly area of northwest Jordan, just 25 miles from the Dead Sea. Seven surrounding hills, known as jabals, helped shape the city. Throughout its history, Amman has been home to a multitude of civilizations, including Assyrians, Greeks and Byzantines.
Today Amman is a prospering modern metropolis filled with ancient ruins, art galleries and museums. It serves as a hub within the Middle East for commerce and trade. With a tradition of welcoming refugees and immigrants from nearby countries, Amman is a multicultural and multidenominational city and one of the most liberal and progressive cities in the region.
The School in the Middle East in Jordan is based at the University of Jordan, the country's oldest public four-year institution of higher education, established in 1962. According to Middlebury College Dean of International Programs Jeff Cason, the university's strong emphasis on research and a rich background in liberal arts make it an exceptional host for students of all academic backgrounds.
"Given the rapid growth of Middlebury's School in the Middle East in Egypt, we decided that the time was right for a new program in the region. After considering different options, we concluded that the University of Jordan would be an excellent partner for a new program," said Cason. "Students on Middlebury's new program in Jordan will benefit from our prior experience of setting up an immersion program in the region. We are very excited by this new opportunity."
"The University of Jordan has one of the best Arabic as a Foreign Language Programs in the region, and, over the past decade or so, Amman has evolved into a truly cosmopolitan capital city, with excellent food, shopping and many opportunities for our students to get to know the people and the culture," said Middlebury College Vice President for Language Schools, Schools Abroad and Graduate Programs Michael Geisler. "With major tourist attractions of its own, the new Jordan site provides an interesting alternative to our successful and well established program in Egypt."
The C.V. Starr Middlebury Schools Abroad have more than 50 years of experience in providing academically challenging immersion programs and, with the addition of sites in Jordan and Israel in the 2011-2012 academic year, will operate programs in 36 cities and 15 countries. Students come from a wide range of academic fields and take courses in most disciplines, often alongside host-country students; intern or engage in volunteer work; and live with a family or local residents. At every juncture, students are encouraged to immerse themselves in the host culture.
For more detailed information, visit http://www.middlebury.edu/sa/ or contact Middlebury College International Programs at internationalprograms@middlebury.edu or 802-443-5745.