College honors three residents for community service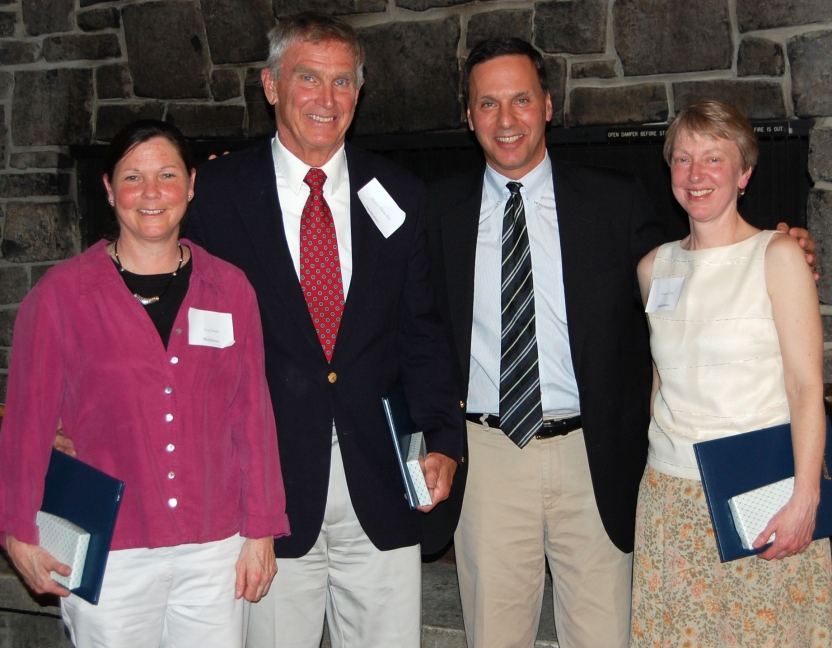 Middlebury College President Ronald D. Liebowitz presented the Bonnie and John McCardell Citizen's Awards for outstanding community service to three area residents on April 11, 2011, at Kirk Alumni Center on the college campus.
The 2011 recipients are: Liz Cronin, Mickey Heinecken, and Susan Vigne.
Dating back to the college's bicentennial year of 2000, it has been customary for the college to honor area residents for exemplary community service, volunteerism, and engagement in community issues. Nominations come from members of the community, and a committee of college faculty and staff make the final selections.
Liz Cronin is the founder and driving force behind the Face Off Against Breast Cancer Hockey Tournament. Since it began 12 years ago, the tournament has grown from a one-day, single division competition for women hockey players, to become a spirited, two-day, multi-division event for women, men and children. In its first year the tournament raised $2,000; this past winter the event generated over $40,000 for Vermont's Cancer Patient Support Program.
A graduate of Norwich University, where she was a three-sport athlete and inducted into the athletic hall of fame, Cronin is a health education teacher at Middlebury Union Middle School.
Michael G. ("Mickey") Heinecken coached the Middlebury College football team for 28 years and retired from coaching after the 2000 season. Nevertheless, the University of Delaware graduate has not stopped serving Addison County with his trademark commitment and passion for success. He and his wife, Carol, have co-chaired the United Way of Addison County campaign and they currently co-chair the capital campaign for the Middlebury Volunteer Ambulance Association.
Heinecken, who holds the Middlebury record for the most football coaching wins (126) in a career, also chairs the Vermont chapter of the National Football Foundation and Hall of Fame, which awards scholarships to student athletes and supports youth athletics.
Susan C. Vigne is the co-founder, director, principal and one of the teachers at the Aurora School in Middlebury, a K-6 private school with a challenging, interdisciplinary, hands-on curriculum. Vigne has led the Aurora School to embrace community service as part of its school culture through monthly visits to Helen Porter Health Care and Rehabilitation Center, food drives for the local food shelf, volunteerism at the Humane Society, and fund raising for critical environmental issues.
A 1983 Phi Beta Kappa graduate of Middlebury College, Vigne also serves on the Christian education committee and board of deacons for the Memorial Baptist Church, and along with her husband, Greg, conducts the music for Sunday worship.
Two years ago President Liebowitz re-named the recognition program the Bonnie and John McCardell Citizen's Award in honor of President Emeritus John M. McCardell Jr. and his wife Bonnie who were exemplars of community service in Addison County from 1976through 2010. The McCardells fostered an ethic of public service on the Middlebury College campus and in the community that has had a positive impact upon the region's youth and family services, literacy, health services, education and business development, Liebowitz said.
All recipients of the McCardell Citizen's Award receive a pewter medallion struck at Danforth Pewterers in Middlebury.
This year's recipients join 49 other area residents who have been so honored during the past decade. For a complete listing of previous Citizen's Award recipients, click here.