College grants tenure to four faculty members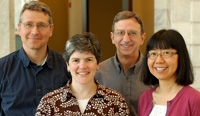 MIDDLEBURY, Vt. – Four members of the Middlebury College faculty – Daniel Brayton (English and American literatures), Hang Du (Chinese), Suzanne Gurland (psychology) and Larry Hamberlin (music) – have been promoted to the rank of associate professor without limit of tenure.
The board of trustees, at its meeting in May, accepted the recommendations of President Ronald D. Liebowitz and the board's educational affairs committee in promoting the four faculty members. Their promotions take effect July 1, 2011.
Daniel G. Brayton received his bachelor's degree from Williams College, his master's degree from the University of North Carolina at Chapel Hill and his doctor of philosophy from Cornell University. A member of the Middlebury College faculty since 2001, his research interests include literature of the sea, environmental literature and early modern drama. His book, "Shakespeare's Hungry Ocean: Ecocriticism, Early Modern Culture, and the Marine Environment," won the Northeast Modern Language Association First Book Prize and will be published by the University of Virginia Press in spring 2012. A lifelong sailor, he has held visiting appointments with the Williams-Mystic Program in Maritime Studies and the Sea Education Association of Woods Hole, Mass.
Hang Du joined the Chinese department in 2004 after earning her doctorate in second language acquisition and teaching from the University of Arizona. Her book, "The Acquisition of the Chinese Ba-Construction," was published in 2006 by LINCOM Academic Publishers (Munich), and her research interests include Chinese linguistics, the acquisition of Chinese language skills, and second-language pedagogy and assessment. Du holds a bachelor's degree in English from West China University of Medical Sciences and a master's degree in linguistics from University of Iowa. She taught two summers (2001-2002) in Middlebury's summer Chinese School, and has served five years as adviser to the Chinese House.
Suzanne T. Gurland, who teaches courses in child development, psychological disorders, statistics and human motivation, joined the Middlebury faculty in 2004. After earning a bachelor's degree at the University of Chicago, she studied clinical psychology at Clark University and earned master's and doctoral degrees. Her doctoral dissertation was titled, "Adult Styles of Interaction and Children's Impression Formation: Implications for Clinical Rapport." Gurland gained her clinical experience at the University of Massachusetts Medical Center, the Worcester (Mass.) Youth Guidance Center and the Hamilton Center of Terra Haute, Ind.  She also received a grant from the National Institute of Mental Health to conduct the research project "Toward a New Model of Rapport with Children."
Larry Hamberlin, a music historian, recently published "Tin Pan Opera: Operatic Novelty Songs in the Ragtime Era" (Oxford University Press) and is under contract with W. W. Norton and Co. to co-edit with Richard Crawford a second edition of "An Introduction to America's Music." At Middlebury Hamberlin has taught courses in music history, Bob Dylan's America, Beethoven, performing chamber music and a first-year seminar titled "Music, Experience, Identity." A graduate of the University of Arkansas, Hamberlin earned a master's degree in music history from the University of Washington and a doctor of philosophy in musicology from Brandeis University. His dissertation topic was "American Popular Songs on Operatic Topics, 1901-1921."
Earlier in the academic year, five faculty members were promoted by the board of trustees to the rank of associate professor without limit of tenure, effective July 1. They were Febe Armanios (history), Laurie Essig (sociology/anthropology and women's and gender studies), Matthew Kimble (psychology), Hedya Klein (studio art) and Stefano Mula (Italian).