Fellowships in Environmental Journalism Announced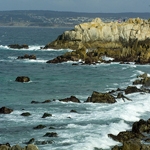 MIDDLEBURY, Vt. ― Administrators of the Middlebury College Fellowships in Environmental Journalism recently announced 12 fellowship recipients for 2011. The program, in its fifth year, is designed to support intensive, year-long reporting about environmental issues by journalists near the start of their careers. According to Schumann Distinguished Scholar at Middlebury College and Program Director Bill McKibben, "It's never been easy, but this year the proposals were so good that we made it at least somewhat easier on ourselves by choosing 12" instead of the usual 10 fellows.
"The amazing ideas we've been reading demonstrate how even as the market for important journalism goes down the work of covering and reporting important stories doesn't stop," said McKibben, author of "Eaarth" (2010) and "The End of Nature" (1989). "Most of this year's applicants and new fellows are flying by the seat of their pants and making sacrifices just to get out the news we need to hear."
Each fellow receives $10,000 toward reporting expenses. In addition to the working journalists, current Middlebury students may also receive fellowships and a stipend of $4,000 based on a story they propose and the quality of their writing samples.       
The fellows meet at Middlebury College in the fall and at the Monterey Institute of International Studies, in California, in the spring. At each site, they participate in a group workshop and edit their stories with McKibben, Associate Director Christopher Shaw and a visiting reporter. The visiting reporters for 2011 will be Janisse Ray, author of "Ecology of a Cracker Childhood" (2000), for the fall session, and Rebecca Solnit, author of "Paradise Made in Hell" (2010), for the spring 2012 session.
"This year's applications included five projects on the northwestern coal corridor to China, four on endangered oceans and fish, and more than one on mounting extinction rates," Shaw said. "The proposals every year just keep driving home to us how important it is to keep finding ways to get the stories in the public consciousness." Stories reported and written during previous fellowship years have appeared in Mother Jones, Virginia Quarterly Review, Grist and Gourmet, and have been aired on National Public Radio.
This year's 12 fellows and their topics are:
•Jonathan Mingle, Randolph Center, Vt.: The diminishing returns of devoting farmland to grow fuel crops, such as ethanol.
•Kate Sheppard, New York, N.Y.: Places at the threshold of suffering major damage from climate change.
•Nathanael Massey, New York, N.Y.: Effects of Alberta tar sands development on neighboring First Nation cultures.
•Robert Moor, New York, N.Y.: Trails — topographical and cognitive — in contemporary society, human culture and the mind.
•Lauren Markham, Berkeley, Calif., Middlebury Class of 2005: The predicament of climate refugees in Ethiopia and elsewhere.
•Benjamin Cosgrove, Fitchburg, Mass.: The importance of preserving the natural soundscape in protected areas.
•Shahan Mufti, New York, N.Y., Middlebury Class of 2003: Rebuilding and redeveloping after the Pakistani floods of 2010.
•Jessica Benko, Brooklyn, N.Y.: Genetic rescue and the wolves of Lake Superior's Isle Royale.
•Nicholas Kusnetz, New York, N.Y.: Hydrofracking and the financial pressures of easy money on North Dakota landowners.
•Holly Hayworth, Knoxville, Tenn.: Downstream consequences of the 2008 coal ash spill in Roane County, Tennessee.
•Angela Evancie, Burlington, Vt., Middlebury Class of 2009: The far-reaching and deep ecological teaching and practice of contemporary Roman Catholic "Green Sisters." 
The Middlebury College senior receiving a fellowship this year is Jessie Williamson, of Napa, Calif., reporting on efforts to save golden-plumed parakeets in Ecuador from palm harvesting.
Fellows were selected based on letters outlining their projects, and their writing samples. "As usual we were amazed at the range and depth of the stories, and the excellence of the samples," said Shaw. "Out of the more than 150 applications we received, at least 30 were in the very top rank of quality, interest and importance, and it caused us actual physical pain not to fund them all."
For more information about the Fellowships in Environmental Journalism, visit www.middlebury.edu/sustainability/fech/fellowships.