Bread Loaf School of English confers 45 master's degrees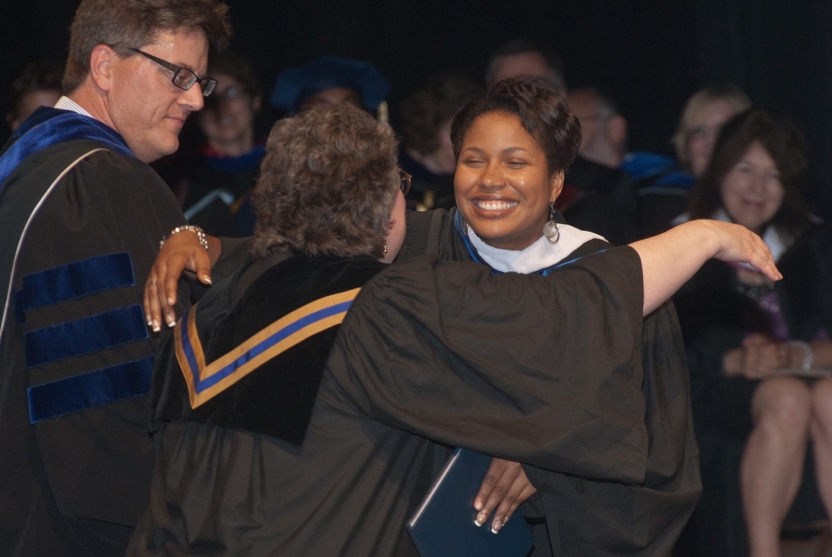 RIPTON, Vt.—On Aug. 6 at Middlebury's Bread Loaf campus, the Bread Loaf School of English completed its 92nd summer with commencement ceremonies, during which 45 students received master's degrees.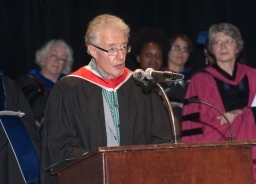 h="241" height="174" />
Commencement speaker Michael Armstrong.
The speaker at the Saturday night event — selected by the graduating class — was longtime Bread Loaf faculty member Michael Armstrong. Formerly head teacher at Harwell Primary School in Oxfordshire, England, Armstrong joined the School of English as a faculty member in 1986 and has been teaching courses on storytelling, Italo Calvino, Tolstoy and the imagination ever since. He has published three books on children's writing, thinking and creativity, the most recent among them being "What Children Know: Essays on Children's Literary and Visual Art." His students praise him, summer after summer, for his inspirational investment in the power of children's art.
The "hooders," who add the master's hood to each graduate's academic regalia during the ceremony, are also picked by the senior class. This year the graduates chose Elaine Lathrop, Bread Loaf's office manager and, for many students, the official "face"of the Bread Loaf office, and Will Nash, professor of American Studies at Middlebury College and a member of the Bread Loaf faculty who held the Frank and Eleanor Griffiths Chaired Professorship at the Vermont campus this summer.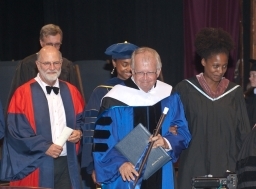 0%2711%20Maddox" width="256" height="189" />
James Maddox, center, longtime director at Bread Loaf, received an honorary degree.
New this year was the award of an Honorary Doctor of Letters degree, to James Maddox in recognition of his distinguished service and innovative leadership as former director of the Bread Loaf School of English (1989-2010). All the degrees were conferred by Middlebury College President Ronald D. Liebowitz.
Forty-four students (including three in absentia, and three who received the degree in March 2011) at the Vermont campus earned master's degrees in English (the M.A.), while one earned a Master of Letters (M.Litt.) degree—a more specialized degree for which the M.A. in English is a prerequisite.
On July 27, nine master's degrees and one M.Litt. were awarded at the campus in Santa Fe, N.M., and seven at the Asheville, N.C., campus. Next week, on Aug. 11, at the campus in Oxford, England, the School of English will confer 30 master's degrees and one M.Litt. A total of 90 M.A.s and three M.Litt.s will have been awarded this summer at the four Bread Loaf School of English campuses.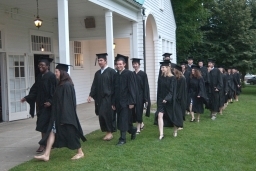 256" height="171" />
The academic procession.
Since 1920 the Bread Loaf School of English has offered a rich array of graduate courses in literature, the teaching of writing, creative writing, and theater to students from across the United States. For six weeks each summer Bread Loaf students, most of whom are secondary-school teachers, work toward an M.A. or M.Litt. and study with a world-class faculty at one of our four sites: New Mexico, North Carolina, Oxford and the home campus located outside Middlebury at the foot of Bread Loaf Mountain in Vermont.
— Photography by Tad Merrick