Students respond to crisis after Tropical Storm Irene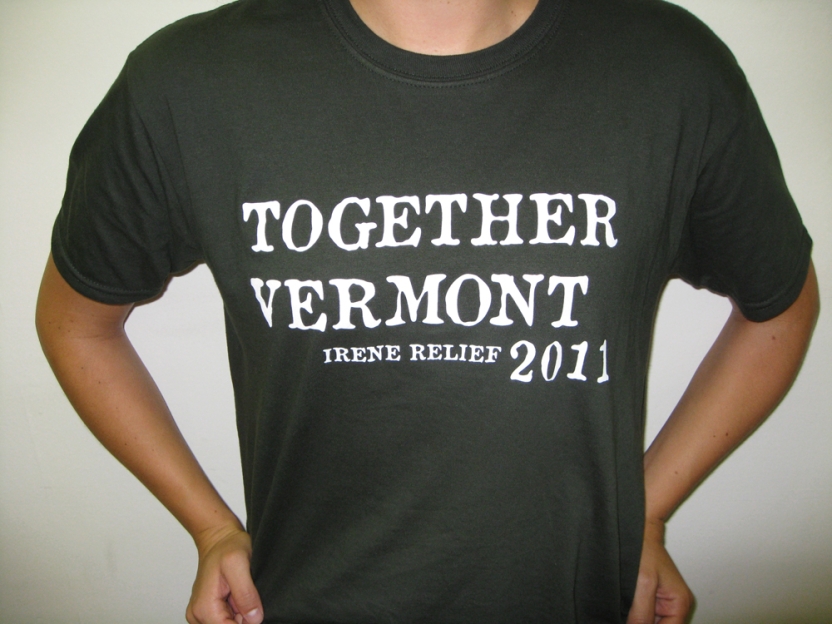 MIDDLEBURY, Vt. — After Tropical Storm Irene ripped through Vermont on August 28, student-athletes and coaches from Middlebury College responded with rakes and shovels, bleach and buckets, and countless hours of volunteer labor.
The storm that caused record flooding in the Green Mountain State — the worst to hit Vermont since 1927 — destroyed homes and businesses in Hancock, Rochester, Stockbridge, Killington, Brandon and other towns with deep connections to the college.
Most of Middlebury's students were not yet on campus in the days immediately following the storm, so the athletic teams were the first to put their shoulders to the plow to help the college's neighbors.
Speaking on behalf of his coaching staff, Erin Quinn '86, director of athletics, said, "Middlebury is our town and Vermont is our home. This is where our kids go to school, where we work, where we shop and where there are people we know and care about. We just had to get out there and help. It's not like a box we check off that says 'community service.' This is our home and we had to respond."
indsor_hurlburts" title="x-c_windsor_hurlburts" width="256" height="174" />
Shoveling tons of river mud with the cross-country team in Windsor County
While the town of Middlebury was spared most of the catastrophic damage that made national news for days, Otter Creek in downtown Middlebury was rising so quickly after the tropical storm that something had to be done. So members of the football team dashed from the weight room to fill sandbags and protect businesses along Bakery Lane and homes on Seymour Street near the covered bridge.
By mid-week, Tiffany Nourse Sargent '79, director of civic engagement, had organized a command post on campus from which she coordinated the college's efforts with relief directors from nearby towns, firefighters, local law enforcement officers, representatives from United Way and other charitable organizations, members of the college administration and staff and, of course, the coaches.
"Things just started organically," Sargent said, "and it grew from there." But like others who have worked side-by-side with Tiffany in the past, Quinn and the athletic coaches know that she is a consummate community organizer. The more dire the need, the more determined Sargent gets.
The White River Valley towns on the east side of the Snow Bowl were particularly hard hit, so on Saturday, September 3, the college dispatched members of four fall teams — field hockey, volleyball, cross-country and football — out to pick up debris from fallen trees, shovel out muck from basements, clear paths to people's homes and help residents sort through their wet belongings.
Quinn and six members of the field hockey team left Middlebury shortly after 6 a.m. and were assigned to help an elderly resident in Hancock whose home was damaged by fire. When the power went out, her electric stove was on. And when the power came back, the stove ignited a fire that damaged her kitchen and two adjacent rooms.
"The brook next to her house had flooded and the road leading up to it looked like it was in an earthquake," the athletic director said. With everyone wearing masks and two sets of gloves, the group moved her belongings onto the deck and then bleached, cleaned, rinsed and dried every object before tackling the bigger job of cleaning the walls, floors, countertops and cupboards on the inside of the house.
In the days and weeks that followed Irene, the women's tennis team helped displaced homeowners in Stockbridge, men's soccer players came to the aid of a flooded vegetable grower in New Haven and three teams — men's and women's ice hockey plus women's basketball — cleared debris in agricultural fields in Proctor. And these were just a fraction of the college-sponsored relief efforts.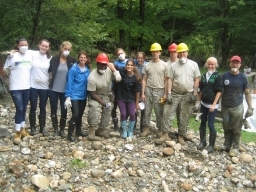 ional_guard_1000" title="tennis_national_guard_1000" width="256" height="192" />
The women's tennis team joined the Vermont National Guard to help residents in Stockbridge.
Also assisting were athletes and coaches from women's soccer, men's rugby, men's tennis, skiing, softball, swimming, baseball, women's squash, crew and men's lacrosse in places near, like East Middlebury, and far, like Windsor on the Connecticut River. Soon others joined in the effort, including Hillel, two OINK (i.e., outdoor adventures for first-year students) trips, the college's Habitat for Humanity chapter and many individual students. Students from Wonnacott Commons went to Rutland to help the Red Cross break down cots and fold blankets from the temporary shelter there. The president's office, facilities services, custodial services, Education in Action (EIA), and dining services cooperated in the collegewide effort that is still far from over.
A few days after classes began, a student-directed group called Midd Hurricane Relief formed with Jessica Appelson '12, Lea Calderon-Guthe '11.5, Firas Nasr '15 and Ali Urban '12 in leadership roles. EIA staff and students quickly designed an "Irene Relief 2011" t-shirt, ordered 500 pieces, and started selling them on campus for $15 with proceeds going toward Vermont Disaster Relief Fund. T-shirts are available at the Middlebury College Bookstore, the box offices in McCullough and Mahaney Center for the Arts, or the arts box office website (scroll down to "H" for hurricane.)
While appreciation for the efforts of students and staff has been widespread, the work continues. "It's been nearly four weeks since Irene touched Vermont," Tiffany Nourse Sargent said, "and the survivors of this terrible event are tired and frustrated and more than a little downhearted. So when they see a carload of college students arriving to help, it lifts their spirits and lightens the atmosphere. It's just so uplifting to see how we all came together to respond to this crisis."
The waters of Vermont's rivers have receded and most of the state's roads and bridges have reopened. But what about those sandbags the football team laid along Otter Creek in the first few days after the storm? Not a problem. The track team, coached by Martin Beatty '84, and men's lacrosse, coached by Dave Campbell '00, are going to pick them up this weekend while other Middlebury students fan out across the region to help their fellow Vermonters in need.
UPDATE
In the weeks since this story first appeared, Middlebury students have continued to help the residents of communities besieged by Tropical Storm Irene. On the first of October three students devoted the day helping residents of Proctor, Vt., about 25 miles south of Middlebury, where homeowners were still digging out from the flooding of Otter Creek.
The weekend of October 8-9, members of the ski team assisted a Rochester resident whose home and property were ruined by Irene. Seventeen skiers pulled nails out of flooring so the boards could be used in the rebuilding process. They also shoveled thousands of pounds of silt and sand that had washed up onto the property.
About 18 members of the men's lacrosse team also went to Rochester—one of the communities hardest hit by the tropical storm. After splitting into two units, one group removed mud and equipment from a flooded garage, while the other laid new gravel in a basement that had been flooded. The student-athletes also removed large rocks from the nearby mountain road.
As of October 10, about half of the 500 "Together Vermont" t-shirts have been sold. The student-organizers of Hurricane Irene Relief are hopeful they will raise more money selling shirts at Fall Family Weekend (Oct. 14-16) and during Homecoming (Oct. 28-30).
For More Information