Middlebury trustees grant tenure to four professors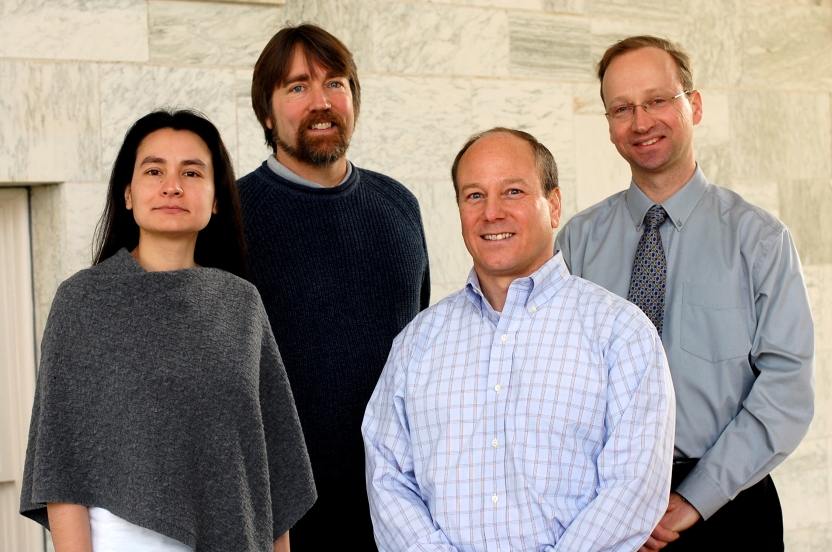 MIDDLEBURY, Vt. — Four members of the Middlebury College faculty — Rebecca Bennette (history), John Maluccio (economics), Jonathan Miller-Lane (education studies) and John Schmitt (mathematics) — have been promoted to the rank of associate professor without limit of tenure.
The board of trustees, at its meeting in December, accepted the recommendations of President Ronald D. Liebowitz and the board's educational affairs committee in promoting the four faculty members. Their promotions take effect July 1, 2012.
Rebecca Ayako Bennette, who earned a bachelor's degree from Johns Hopkins University and both a master's and Ph.D. from Harvard University, joined the history department in 2005. Bennette is an expert on 19th- and 20th-century German history, and her book "Fighting for the Soul of Germany: Catholics and Their Struggle for Inclusion in the Nation after 1871" is scheduled for release in May 2012 by the Harvard University Press. In recommending her for tenure, President Liebowitz said her teaching is "a model of clarity and rigor," and her courses in European history "contribute to Holocaust studies, Jewish studies, and other priorities" in the Middlebury curriculum. The recipient of five Harvard University grants, Bennette has delivered presentations and published articles on gender, religion, politics and national identity in Germany.
John A. Maluccio joined the economics department at Middlebury in 2005 after eight years as a fellow at the International Food Policy Research Institute's division for food consumption and nutrition. An alumnus of Amherst College, Maluccio did his graduate work at Yale University where he earned master of arts, master of philosophy and doctor of philosophy degrees. He has been a prolific writer, presenter and reviewer in the field of econometrics and on topics related to economic development, nutrition and disease in Latin America. Maluccio has been awarded grants by the National Science Foundation, the Fulbright Foundation and the National Institutes of Health. President Liebowitz said Maluccio's scholarship aimed at "reducing poverty and malnutrition in developing nations" has made an "important contribution to international policy debates over economic development."
With his promotion, Jonathan Miller-Lane becomes the first tenured faculty member in the newly configured education studies program. After earning a bachelor's degree in Middle Eastern and African history at Northwestern University in 1985, Miller-Lane worked as an instructor and administrator with the Close Up Foundation in Washington, D.C. Next, he served two years in the teacher education department at the College of The Marshall Islands (Micronesia), followed by six years as a high school social studies teacher in Bainbridge Island, Wash. He holds a master of education degree from George Washington University and a Ph.D. in education from University of Washington. President Liebowitz saluted Miller-Lane for "effectively articulating a philosophical and theoretical [framework]" for education studies, and for both "preparing secondary school teachers and reflecting on the pedagogy of liberal arts institutions."
John Schmitt, whose research interests include combinatorics, graph theory and discrete mathematics, joined the faculty in 2005 after earning a bachelor's degree from Providence College, a master's from the University of Vermont and a Ph.D. at Emory University. In conjunction with a National Science Foundation Research Opportunity Award in 2009, Schmitt held a two-year visiting appointment at Carnegie Mellon University to pursue his work on the "Turán Problem for Graphs and Hypergraphs." In recommending Schmitt for tenure, his mathematics department colleagues were impressed by his success in maintaining a high-level scholarly agenda, and President Liebowitz added, "Your approach to teaching not only develops mathematical skills, but encourages students to understand why those skills may be valuable in an array of professional opportunities." Schmitt was the 2008 recipient of Middlebury's Perkins Award for Excellence in Teaching.
At the same board meeting, three Middlebury professors were promoted to the rank of full professor: Peter Nelson (geography), Theodore Sasson (international studies) and Frank Swenton (mathematics).