Major gift of land to Middlebury College exceeds size of campus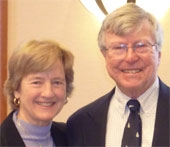 MIDDLEBURY, Vt. — An alumnus and trustee of Middlebury College has given the college 377 acres of land in Cornwall bordering the Vermont institution's historic campus. The property is the largest and most significant that the college has received since Joseph Battell bequeathed 30,000 acres on Bread Loaf Mountain in Ripton in 1915.
The gift is from trustee emeritus Willard T. Jackson, a 1951 graduate of Middlebury, who granted the land to the college in four parcels, the first coming in 2007. The last and largest section of 269 acres, including Jackson's home in Cornwall, called Taproot, was given this past December. Will and his wife, Carolyn, a member of the Middlebury Class of 1961, retain the right to live in Taproot for the remainder of Will's life. Jackson's gift is larger than the college's main campus of 350 acres.
"The acquisition of this property is of incalculable importance to the college," said Middlebury President Ron Liebowitz. "The setting is unique in its beauty and tranquility, and we will take great care to preserve those qualities for the enjoyment of future generations and will use this gift for educational purposes. Will Jackson has always been a conscientious steward of the land, and we appreciate the confidence he has placed in Middlebury College to continue that stewardship. As the college becomes more global in presence and outlook, it is important that we highlight the importance of our core mission and presence here in Vermont. These 377 acres, contiguous to the existing and historic campus, do that and more."
The donated property lies west of the campus along Route 125 and Cider Mill Road. It includes fields, woodlands and wetlands which the college can use as a laboratory for environmental field research and related scientific and other educational purposes. Taproot, Jackson's spectacular residence, is an outstanding example of vernacular New England farm architecture in a magnificent setting with among the most beautiful, unobstructed views of the college and Green Mountains.
Before retiring and moving to Vermont in 1991, Jackson was an investment manager and partner at Brundage, Story & Rose, an investment counsel firm on Wall Street. He has been an indefatigable volunteer for Middlebury College, serving as a trustee for 15 years, representing the Class of 1951 as class agent, and assisting with many alumni events and fund-raising activities. The college awarded him an honorary Doctor of Humane Letters degree in 1990.
"Being on the board [of trustees] and helping to guide the college's development has been very meaningful to me," Jackson says. "Middlebury is an exceptional institution, and it has been an important part of my life ever since I was a student. I have great faith in the college and its future. I feel fortunate to be in a position where I can help to build that future."
The property had a connection to the college even before Jackson acquired it. "I bought most of it from Arnold LaForce, Class of 1935, who was a Middlebury trustee board chair, he explains. "He said he was selling it to me, because he knew I'd take care of it and 'do the right thing.' I'm confident that turning it over to the college is the right thing to do now."