Middlebury expands its Posse partnership to Chicago

The magnificent Harris Theater at Millennium Park in Chicago was pulsing with excitement last night. But it wasn't a spectacle of dancers or drama that held everyone's attention. Instead, a small group of budding scholars in the audience proved to be the evening's true stars.
More than 90 high school students — along with an extended support crew of families, friends, teachers and guidance counselors — sat perched on the edge of their seats. They'd already been accepted into some of the country's top colleges and universities — including Middlebury — and many of them will be the first in their families to go.
"This whole evening is our mission in motion," explained Dominique Jordan-Turner, director of the Chicago division of the Posse Foundation, a national organization that recruits and identifies exceptional high school students to receive four-year, full-tuition leadership scholarships from its partner institutions.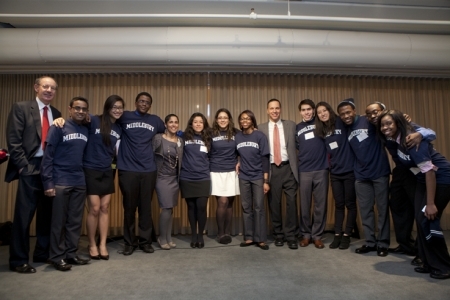 Middlebury meets a new Posse: from left, Middlebury trustee Chuck Gately '62, Faraz Khan, Baolin Xu, Charles Griggs, Dean of the College and Chief Diversity Officer Shirley Collado, Gabriela Fuentes, Jacqueline Flores, Tamir Williams, President Ron Liebowitz, Nicolas Mendia, Lhakpa Bhutia, Amari Simpson, Cheswayo Mphanza and Shariell Crosby.
Middlebury has been a Posse partner institution since 1998, recruiting Posses of 10 students each year from New York. This year, the college is increasing its number of New York scholarships to 12, and adding a second 12-student Posse from Chicago.
Last night, the Posse Foundation formally announced the scholarships for the Chicago high school students, and also named the individual members of each Posse group that will be attending college together next fall.
Posse is established in eight cities — Atlanta, Boston, Chicago, Los Angeles, Miami, New Orleans, New York and Washington, D.C. The concept that drives the decades-old program is rooted in the belief that a small, diverse group of talented students — a posse — that is carefully selected and trained, can serve as a catalyst for increased individual and community development on college campuses.
"Over the course of our participation in the Posse program — 12 years now — one cannot help but notice the positive impact the Posse Scholars have had on our campus," said Middlebury College President Ron Liebowitz, who was on hand at the Harris Theater to share remarks and his congratulations. "Their energy, creativity, leadership and the sharing of diverse experiences and talents have combined to truly enrich the life of the college."
More than 3,665 public high school students have participated in Posse scholarships, and these students not only graduate at a rate of 90 percent but also make a visible difference on campus and later throughout their professional careers. According to its website, "Posse is helping to create a new kind of network of leaders who will sit at the tables where decisions are made and better represent the voices of all Americans."
Middlebury's own proof of the difference a Posse scholar can make is none other than Dean of the College and Chief Diversity Officer Shirley Collado.
"I am an example of how this program transforms young people," said Collado. "I was part of the very first Posse in 1989, at Vanderbilt University. I was the first person in my family to go to college, and I went on to become the executive vice president of Posse, to serve on the alumni board at Vanderbilt, and, now, to be dean of the college and chief diversity officer at Middlebury."
Both Collado and Jordan-Turner stress the importance of understanding that Posse is not just about what colleges and universities can do for these students — it's just as importantly about what Posse scholars bring to the campuses they call home for four years at a time.
"These students who come to Middlebury from New York, and now Chicago, will be changed, for sure," said Collado. "But they will also have a tremendous effect on Middlebury."
But for now, explained Jordan-Turner, the Chicago scholars — like their counterparts in the other Posse Foundation cities — will spend the next eight months working closely within their Posses to build the bonds and support systems they will need to make the most of their college experience.
"As part of their pre-collegiate training, they'll meet weekly with their Posse to work on teamwork, cross-cultural communication skills, time management and how to maintain overall academic excellence. It's a big jump from the Chicago public school system to a place like Middlebury," said Jordan-Turner. "But that's the importance of Posse."
For More Information